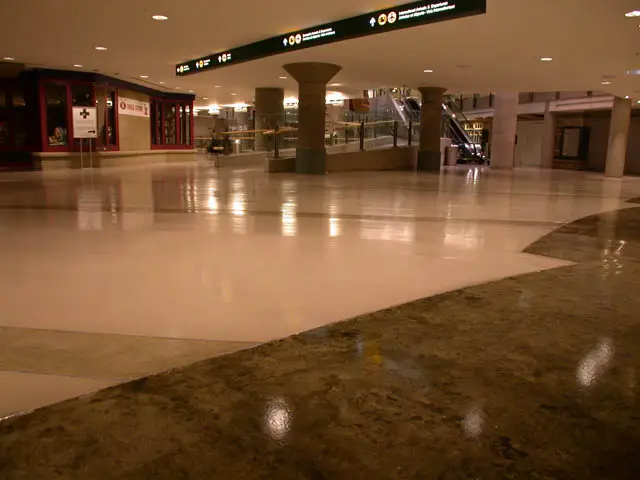 THE MANY FACETS OF DECORATIVE CONCRETE
Decorative Concrete
Long gone are the boring days of slate gray concrete slabs as the only option for flooring, driveways, walkways and patios. Now there are numerous other options available to add a decorative touch to any residential home or commercial property using concrete. Traditional concrete can now be poured to be stamped, stained, colored, polished and even resurfaced. It is available as a countertop, or beautiful interior floor with inlays and overlays.
Commercial properties and residential homes are now incorporating creative designs in their concrete floors, countertops, entryways, patios, pool decks and other components of the property. When installed properly, colored concrete can add an architectural decorative element into nearly any design.
Contractors have tools to imprint a variety of patterns into newly poured concrete. These often mimic the look of brick or stone pavement at significantly reduced costs. Stamped concrete offers texture as a way to enhance nearly any interior or exterior concrete pour. It can be used in conjunction with concrete colors and numerous imprints. Using patterns and colors, the stamped concrete can blend with other textured concrete elements including tile, wood or stone.
Available in a variety of colors, stained concrete can instantly transform the boring grey traditional concrete color in a variety of color schemes. Highly creative applications of stained concrete can mimic a variety of natural products such as leather, wood, marble and natural stone. It is the ideal solution for enhancing the aesthetic qualities of walkways, patios, driveways, concrete walls, pool decks and more.
Concrete Overlays
Worn out, damaged or aging concrete can be instantly rejuvenated using decorative concrete overlays. This decorative feature can improve the surface of the concrete both outdoors and indoors while providing a complete facelift. Concrete overlays offer a cost-effective solution to a complete replacement of existing concrete. New advancements in the technology improve the overlay's performance, with enhanced aesthetic qualities and high resistance to wear.
Colored Concrete
Color concrete schemes are available in a variety of options including multicolored vibrant solutions or more rustic earth-toned hues and shades. The coloring materials can be added throughout the wet concrete mix, or applied directly to the surface just before it completely hardens. Additionally, dyes can be applied to any finished concrete and will not chemically react like acidic stains.
New innovative technology in polishing equipment allows contractors to add a high-gloss polished decorative feature to concrete floor surfaces. Adding a high-gloss finish to the concrete surface allows the owner to never need additional coatings or waxes to maintain a high polished appearance. Many residential homes and commercial properties including retail stores, office facilities and warehouses are choosing polished concrete flooring as the ideal alternative to linoleum, granite, tile and marble. It adds a decorative luster that replicates the appearance of high polished stone.
Resurfacing
Removing and replacing concrete is no longer the only available option for a cracked or discolored concrete surface. The concrete can now be fully resurfaced, saving substantial amounts of money while enhancing its appearance.
Increasing the aesthetic qualities of concrete is limited only by imagination. There are numerous options available to transform concrete into beautiful decorative designs.