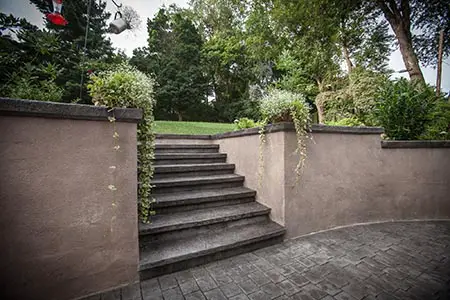 Vertical Concrete Wall Finishes
When confronted with a large unfinished wall or wondering what to do with a new vertical surface, an often overlooked and misunderstood solution is actually a great option; Vertical Decorative Cement or Concrete. With the possibility of hundreds of designs, colors, patterns and textures fueled by new and proven technology, concrete is going vertical and not looking back…
Vertical Cement Resurfacing Systems allows us to add a new and refreshing finish that can include color, a rock texture or patterns, smooth refined finish, Stucco as well as any number of color choices and options. Vertical Concrete Systems can be installed over, drywall, wood as well as a concrete substrate, allowing the look and feel of a natural durable element to be installed almost anywhere. Here is a breakdown of some of the options, when it comes to thin decorative cement wall veneers and vertical stamped, EIFS and hand carved finishes.
Here's a breakdown of some of the most common finishing methods and options with concrete and cement based finishes.
Vertical Stamped Concrete Constructed with cement, aggregate and polymer as a modifier and bonding agent these resurfacing systems are typically installed at no more than 3/4-1 1/4 inches
s. After being trowel applied to a properly prepared substrate, these systems are then imprinted with a pattern of choice, often resembling rock, brick or natural stone. Giving a continuous no seam finish across the wall surface. Similar to the vertical stamped concrete (as mentioned above) rather than applying a specific rock pattern or brick pattern, it is common to simply have a texture imprinted on the area followed up with a hand carved grout pattern to simulate a natural stone appearance. These systems rely more in the installers abilities to be creative and artistic but also give more control over pattern and custom design.
Faux Finishing and Wall Skims: Falling into this category are micro thin (no more than 3/16ths inch) skim coats which often consist of cement, very fine 'flour' aggregate, and polymer resins. These can be sprayed, splattered, troweled and layered creating a variety of decorative finishes. Venetian plaster, wall skims, and plaster are all types of these finishes. These are often used where only a decorative skim coat is required and often yield a natural or aged surface finish.
EIFS (Exterior Insulation Finish Systems) Is composed of a layer of foam or insulation, A reinforced layer that is applied onto the face of the insulation with a trowel, consisting of an adhesive and fiberglass reinforcing mesh ( or "mesh") and a final topcoat, which is a colored, textured paint-like material that is applied with a trowel or, very rarely, by spraying. A wide range of colors and textures are available as well as custom colors. Available textures include smooth surfaces, rough "stucco-like" textures, embedded stone chips, multi-color (granite-like mixtures,) and even brick-like treatments.