Stamped Overlays use pre-formed molds to imprint or stamp a pattern into a setting concrete surface.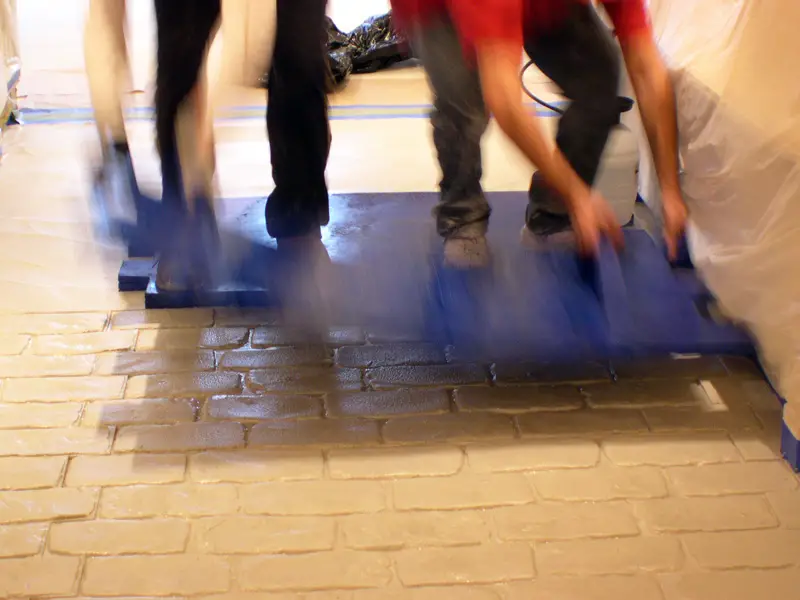 Textured Overlays on the other hand require the skilled hands of a professional and their trowels and tools to ultimately create the surface finish or texture of the overlay.
Texturing the surface of concrete can include but is not limited to broom finishes, slate patterns, swirl patterns, rock texture or other creative means. By adjusting the angle, size, type and swipe pattern of the trowel a concrete craftsman can create unlimited designs and finishes. With a little luck perhaps your local professional can create a totally custom finish just for you.
Stamped overlays, stamped toppings, or also known as imprinted overlays are the latest and greatest way to give an existing concrete surface the look of natural stone, rock or brick, even wood!
Simply put, a stamped overlay is a thin 3/8" to 3/4" polymer modified cement topping material designed to resurface and add a new and refreshing canvas to the substrate they are applied to.
Stampable overlays are designed to cover dull, drab, or damaged concrete surfaces that are otherwise poor candidates for the application of concrete stains or coloration. After a short initial set time they are then able to be imprinted, embossed, or stamped with a pattern, often simulating stone, slate, tile or pebbles. Stampable overlays can be integrally colored or topically stained or dyed.
Stamped and textured concrete can be construed as the same but for the purposes of design and ease of explanation here are how they are different.
Why Choose Stamped Overlays?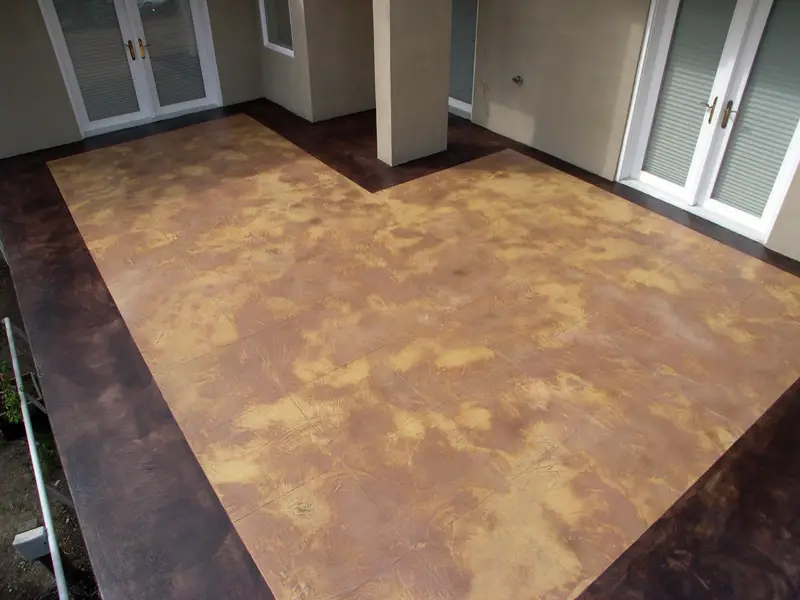 Stamped overlays are a great way to spice up existing concrete, it would also be useful when removing and replacing concrete is not cost effective for your project. Not only do you have as many options to add creative flare to your project with stamped overlays, but it is also less time and labor intensive to install.
Times when stamped overlays are most useful are when there are surrounding structures that run a risk of being damaged during demolition (ie. Stair cases, swimming pools, walls). If the concrete is in good enough shape to restore it, then stamped overlays are recommended.
Stamping an overlay allows you to create a distinctive pattern to match your surroundings and add appeal to the area. Using the stamping patterns, you can create stone, slate, brick, wood, cobblestone and many other patterns for a fraction of the cost. The durability of concrete makes stamping overlays a great alternative to other masonry materials.
The minimum concrete that needs to be applied is 3/8 inch. You may need to apply more concrete depending on the deepness of the impression on the concrete stamp.