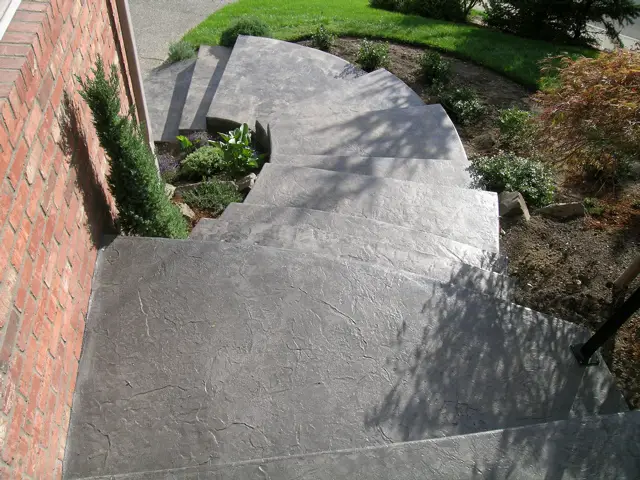 For unique and beautiful patterns, seamless textured concrete skins are incredible. They produce outstanding results while being an extremely easy method of transforming the aesthetics of pool decks, patios, walkways, driveways, and more.
For new concrete, a seamless stamp pattern adds subtle texture. These skins, also known as seamless stamps, create the look of stone or slate without an actual grout line pattern. As a result, the concrete surface appears as a continuous piece, as opposed to multiple stones/slates connected by joints.
A Growing Trend
Today, many people prefer stamped concrete that consists of larger patterns with finer and more realistic details. Seamless textured concrete skins accomplish this and more. For instance, because these skins have feathered edges and are more pliable, alignment is easier, which dramatically reduces the installation time.
The only downside is that because control joints in the concrete cannot be hidden within the pattern, they become more visually obvious. Even so, considering the overall benefit that seamless skins offer, most people consider this a fair tradeoff. Typically, a skilled contractor will start by creating a base texture using seamless patterns. To that, custom colors or joints tooled by hand are added for a unique finish.
Great Project Ideas
Seamless textured concrete skins are used for numerous projects, both indoors and outdoors. This is an excellent way to transform a backyard. Especially if you enjoy spending quality time with family and friends outdoors, you want an outdoor space that looks amazing while being functional.
You can also have a customized driveway thanks to seamless skins. Along with a smoother surface, this will enhance the curb appeal. For something more dramatic, a contrasting border and bands can be added. This maintains the integrity of the concrete surface while adding character and charm.
Seamless textured concrete skins are also used around the swimming pool. With the right concept, the pattern around the pool area will make a bold statement of style and sophistication. To further enhance the pool, the contractor can use more than one color and add a unique border design. To accomplish this, different release agent colors are used in conjunction with a seamless textured concrete skin.