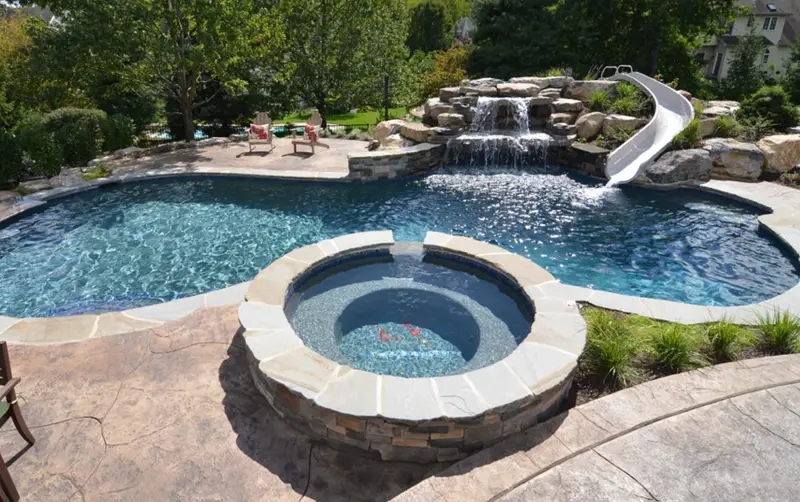 The popularity of saltwater pools has increased dramatically. While there are a number of benefits associated with this type of pool compared to more conventional pools, there are also some special requirements for cleaning and maintenance. One of these is that the pool deck must be properly sealed.
Challenges of a Saltwater Pool
The salt used in a saltwater pool can create a number of challenges, specifically that it attacks cement in plaster and decking materials. Since the level of salt is low, the corrosive process is typically slow. Once the level of sodium hypochlorite gets too high, corrosion from chlorine being produced by the electrolytic cell begins.
In addition to a metal ladder corroding, deck anchors made from cast aluminum are at risk. Saltwater pools can also lead to the degradation of pool decking and coping, not to mention they cause imbalances in the water's chemistry and potentially kill nearby landscaping.
Choosing the Right Solution
Knowing that pool decking around a saltwater pool can corrode over time, it is important to choose the right solution. The Stamp Store offers an amazing product called Cure and Repel, which is sold in 1-gallon containers. This dual-functioning chemical product cures and repels water on concrete substrates.
By using this unique formula for the pool decking around your saltwater pool, the level of salt and water resistance is superior compared to other products on the market. Some of the key benefits associated with SS Cure and Repel include:
• The color of the pool decking concrete will not change.
• Water absorption into the substrate is greatly reduced, which reduces spalling caused by free-thaw and efflorescence.
• Damage from both chlorine and saltwater is minimized.
• SS Cure and Repel is VOC compliant, which means it meets all EPA Aim regulations for concrete curing compounds, not only in the U.S. but in Canada as well.
Using this product as a saltwater pool deck sealant is essential for corrosion prevention and a longer-lasting concrete surface.