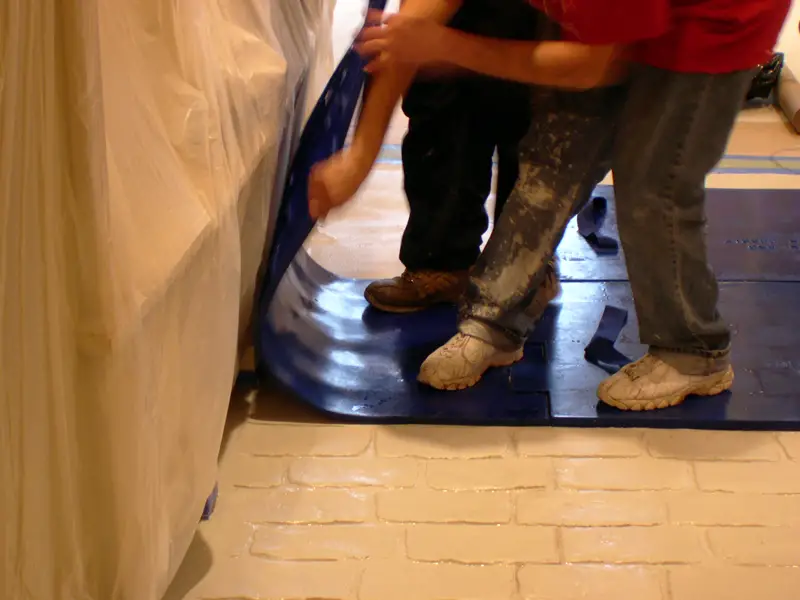 When it comes to decorative concrete supplies, concrete stamps will be among the most important resources to have at your disposal. The right patterned concrete mats can transform a plain concrete slap into a decorative floor or wall that mimics the appearance of even the most luxurious of materials.
If you are new to the decorative concrete business, you may be overwhelmed to realize that there is an extremely wide variety of different concrete mats from which to choose. You will want to have a variety of decorative concrete products, and to understand their applications in order to be capable of providing the diverse design options that your clients will want.
When ordering concrete stamps, it is important to understand the different types. While concrete stamp mats are available in many different patterns in order to mimic different flooring materials (wood, natural stone, brick, and many others), they also vary when it comes to their flexibility. The different types include:
 Rigid
Rigid concrete stamps are the most commonly used type. As the name implies, these mats are very rigid. You can even stand on the mat, and they typically include handles to allow you to easily move the stamp from place to place.
The rigid mats are used most frequently because they are extremely sturdy and provide a good, deep, and uniform impression on the concrete. They are best for use on flat surfaces that are easily accessible.
Semi-Rigid
When working on surfaces that are not entirely smooth, such as driveways that include a hill, semi-rigid concrete stamps may be a better option. They are still rigid enough to provide a good impression, but they are flexible enough to accommodate the contours of the surface.
Floppy
Floppy concrete mats or flex mats are about half as thick and twice as flexible as a rigid stamp. They do not have handles, and they are not meant to be stood upon during application.
These types of concrete stamps are often used in areas that are difficult to access. This could be within corners or along the edges of a counter or another uniquely shaped surface. The flexibility of the mat makes it possible to bend the mat and create an impression in a hard to reach space.
As you can see, there is usually no one type of concrete stamp that will be perfect for an entire job. To provide results that are comprehensive and high quality, an all-inclusive stamp set can be valuable.