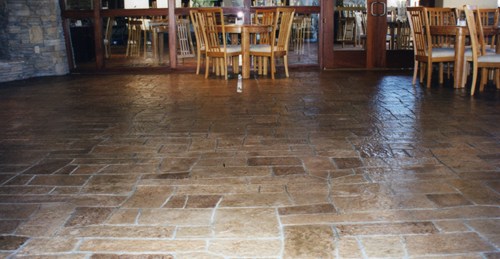 Stamped Concrete is commonly used for residential patios, floors, walkways, driveways, and more. However, it is an excellent choice for commercial businesses, including restaurants. In fact, because of the benefits that concrete provides, this type of flooring is found in some of the country's best-known restaurant chains.
Regardless if you are designing a new restaurant to be constructed or you want to make upgrades to an existing restaurant, stamped concrete is a great investment. Although floors are the most common application, decorative concrete is also perfect for countertops and even walls. Regardless, you can offer your customers a unique environment that coordinates perfectly with the venue and the type of food.
For instance, if you have an Italian restaurant and you want to make the interior as authentic as possible, Italian slate stamped concrete is an excellent choice. If your restaurant has a Mediterranean look and feel, old world ashler, random stone, and ashler notched slate are ideal. What makes stamped concrete unique is that it looks like the real deal.
Branding is always a big challenge for restaurant owners. With multiple restaurants in every city, you need a way to stand out from the competition. The goal is to have a business where customers feel welcomed and valued, a place they will remember and want to visit time and time again.
Whether your guests are enjoying a cocktail on an outside patio or dining inside, this goal is achievable. Simply work with your contractor on choosing the right design and color, using products like Z Aqua-Tint, Z Aqua-Stain, or Intra-Tint.
Another challenge associated with restaurants is the risk of falls due to wet floors. Especially around the kitchen, bathroom, and bar areas, a wet floor creates a potential danger for workers and customers alike. Fortunately, stamped concrete can be textured, which creates a slip-resistant surface without compromising on beauty.