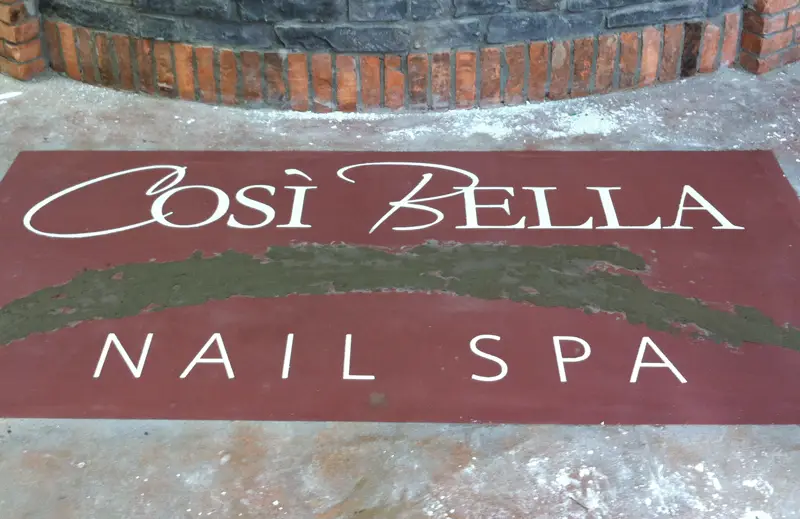 Concrete stains provide a wide range of coloring options for both indoor and outdoor applications. The unique coloring properties of the staining process allows for interesting color combinations, which can work well with stencils to create custom designs quickly and easily.
Concrete stains are available in acid based and water based varieties, and it is important to understand how these methods differ in the color production process. Acid stains rely on chemical reactions between the salts used in the color, and minerals that are present in cured concrete. Acid stains use a combination of salts, hydrochloric acid, and water to produce marbled or variegated coloring effects. These effects are long lasting, and are not subject to peeling or chipping.
Water based stains are acrylic products that do not require acid to impart color to the concrete. These stains have a water base, and have particles of the desired pigments in the solution. Unlike acid stains, which rely on chemical reactions, water stains deposit color directly into the pores of the concrete. This type of concrete stain generally provides more uniform color results, with many more color options available.
When choosing the right stain for your needs, it is also important to consider the maintenance requirements of each stain type. For those who want a long term solution for their decorative concrete, acid stains require the least amount of maintenance to maintain their look. The chemical processes that impart color to the design result in permanent coloring that cannot be altered.
Water based stains require slightly more maintenance, and generally require reapplication every two – five years. New improved stains do not tend to fade over time, llike their earlier counterparts. which was problematic for some designs.
Once you have an idea of the type of concrete stains that you want to use, you are ready to tackle the use of concrete stencils in your design.
Stencils allow for extreme personalization of decorative concrete, by providing clean lines. These stencils adhere to the concrete, and allow users to create intricate patterns, customized graphics, and unique borders, without requiring extreme artistic skills. There are also stencils available that mimic natural stone products or tiling.
Concrete stains are generally quite thin, so you should consider using a thickening agent or gel to protect the lines of the stenciled design. Failing to use these products can lead to poorly transferred designs due to the stain bleeding around the edges.