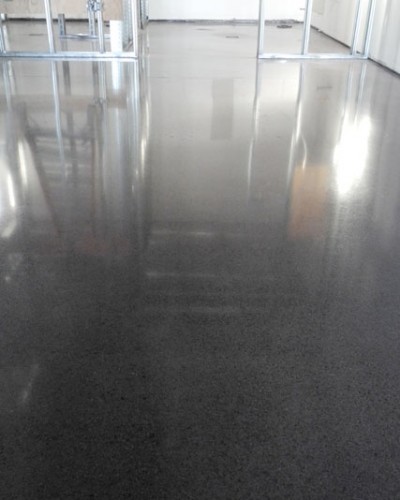 The many Facets of Decorative Concrete
Take a look at the inspiring finishes and designs now possible with this amazing material we call concrete!
When you are ready to proceed with your project visit concreteideas.com online to find your local contractor.
Decorative concrete has become the number one way to add a designer, custom, and original finish to grey boring concrete slabs, both in your home and outside.
To give you an idea of the variety of ways to use concrete as a finished surface here are some of the main areas of use.
Exterior Concrete Finishes:
Stamped Concrete: This is one of the original decorative concrete methods to add a pattern or texture into a freshly placed concrete slab.
There is a reason this finish has created a concrete revolution.  Stamped concrete allows the addition of color, patterns, borders, inlays and custom design thereby changing the way we look and use concrete forever!
With standard patterns mimicking tile, stone, rock, wood and other textured surfaces, stamped concrete allows a large area to be functionally decorated while maintaining the integrity of concrete itself.
Stenciled Concrete: When replicating a tile or stone pattern with the use of concrete it is often desirable to have a true likeness, which often times require grout lines.
With typical stamped concrete the imprinting tools create an imprint of a grout line but aren't able to leave the grout grey while coloring only the stone or tile pattern as in real life.
Stenciled concrete is therefore a solution. With the use of stencils just about any pattern, tile formation or design which has a grout pattern is now possible.
Colored Concrete:     Concrete Coloring can include integral color blended into the wet concrete mix, or surface coloration, either in a dry pigment added to freshly placed concrete slab to acid stains or dyes added to a cured concrete slab. Either way, concrete does not have to be gray and drab anymore.
Rockscapes & Waterfalls:  Whether it's a grand entranceway, an inviting retreat by the pool or a beautiful landscape element, concrete rockscapes and waterfalls are guaranteed to enhance your surroundings.
Pools Surrounds: When deciding on a deck material for your new swimming pool it is important to remember that your decking is not only for getting in or out of  your pool but also as a place to relax on a lounger,  entertain guests, perhaps set up a grill or simply watch the kids swimming and playing in the pool.
Backyard Living and Cooking Areas: Creating an area to read, lounge, cook, eat, entertain, and simply get away. Using concrete to create a patio to start your outdoor living space is just the beginning of what could become your favorite room outside the house. Concrete countertops, bench seating, and grill areas are also a great combination. Concrete can provide the long lasting and durable finish that will stand the test of time.  Get creative and make this space your own special custom designed area.
Floor Finishes:
Stained Concrete: Stained concrete adds color to what otherwise would be a grey, dull or drab concrete surface. A stained concrete surface provides a wonderful marbleized color finish while maintaining the integrity and durability associated with concrete.
Dyes: Similar to faux finishing. Liquid Surface Colorants can be applied using sprayers, mops, sponges, rags and plastic sheets. Creative professionals are always raising the bar and developing new and cutting edge ways of applying these colors.
Polished Overlays: If you are looking for a smooth, shiny finish, on an old concrete surface than a polished overlay may be the answer.  Either applied in multiple coats or in a single self leveling topping system, smooth consistent, finishes are possible with minimal thickness in material and quick turnaround.
Polished Concrete: Taking a plain dull grey slab and giving it a brilliant shine is the basis of polished concrete. Polished concrete has previously been reserved as a purely functional commercial or industrial surface finish.
With today's modern designers seeking functional, unique, durable, and environmentally friendly finishes, they have realized that polished concrete meets all of their requirements.
Terrazzo: Terrazzo consists of marble, quartz, granite, glass or other suitable chips, sprinkled or unsprinkled, and poured with a binder that is cementitious, chemical or a combination of both. Terrazzo is cured, ground and polished to a smooth surface or otherwise finished to produce a uniformly textured surface.
Stenciling and Patterns:  When the standard finish just won't do, a stenciled border, feature or patterns may be the answer.  One of the reasons for choosing concrete is because of it versatility, not constrained by a specifc pattern or layout, concrete can be decorated, stenciled, diamond cut and molded into many various decorative patterns and designs.
Concrete countertops and elements:

Concrete Countertops: Experienced countertop artisans can form, mould, and shape concrete into various patterns and finishes to meet many desirable outcomes. Concrete countertops whether polished, cast in place, pre-cast or stamped are becoming one of the most popular fields of the decorative concrete industry. A concrete counter top offers the customer a totally new, innovative design choice to choose from for their kitchen, vanity, fireplace or bartop.
Concrete as a design element:
Concrete is being used to create fireplace surround, hearths, table tops, seats, and furniture.  Because of its versatile nature concrete is being used as never before with spectacular results.
Epoxies and Coatings:
Garage Floors Coatings: As homeowners are constantly looking for better ways to improve their home, garage coatings are becoming much more popular. For aesthetic as well as cost benefits garages are being re-purposed as play areas, workshops, offices and gardening getaways, and therefore more homeowners are finishing off their otherwise basic garage floors with Functional and versatile garage coating systems.
Retail Epoxy Floors:  The durability and wide variety of finishes possible with epoxy coatings are the reasons why these systems are beginning to show up in the retail market.  From trendy kids fashion stores to industrial warehouse environments, epoxies, poylureas and urethanes are a great option for custom designed floors with little maintenance required.
Industrial Coatings:  Mechanical facilities, warehouses, showrooms, and industrial workshops are commonplace for industrial coatings.  With light reflective properties, their chemical resistant nature, and clean pristine look these facilities enjoy all that industrial coating have to offer.
Wall Finishes:
Vertical Carved: With todays innovative technology and proper training, skilled vertical artisans are bringing these finishes into your home and business. Replicating the look of real boulders, a whole new age of design and possibilities is upon us.
Stamped wall finishes:  Imprinting or stamping a pattern into a vertical applied concrete coating the look of dry stack, bricks and stones are possible.
Stained Concrete Walls: Stained concrete is not only reserved for floors or walking surfaces. Vertical stained concrete is a great way to add a color and finish to a concrete wall.
Cast Stone Veneer: Artificial stone or engineered rock veneer products includes hundreds of pre-cast patterns of stone veneers and architectural trim products that replicate an extensive variety of textures, sizes, shapes and colors of natural stone and brick patterns.