For the entrepreneur at heart and one who is wiling to get his/her hands a little dirty the decorative concrete industry has a lot to offer.
For a quick overview here are some characteristics often found in the concrete contractor and how you will need to be to Start a concrete business:   Optimistic, Committed, Bold, Creative, Problem Solver, Multi Task,  Hard Worker, Personable, and Self Motivated.
Iv'e seen many people come and go in this business but more often than not I see them stay.  Decorative concrete is more than just floors or driveways, it includes walls, countertops, pool surrounds and fireplace mantels.  There isn't one area or defined thing that makes you a concrete artisan, some choose this industry to express their artistic abilities while some are in it purely for the money.  Both are adequate reasons for getting involved in this exciting, fast paced  and ever evolving industry of decorative concrete finishes.
To help explain a bit more lets narrow the topics to some of the most common areas of the business and see what is takes to do the job and be successful.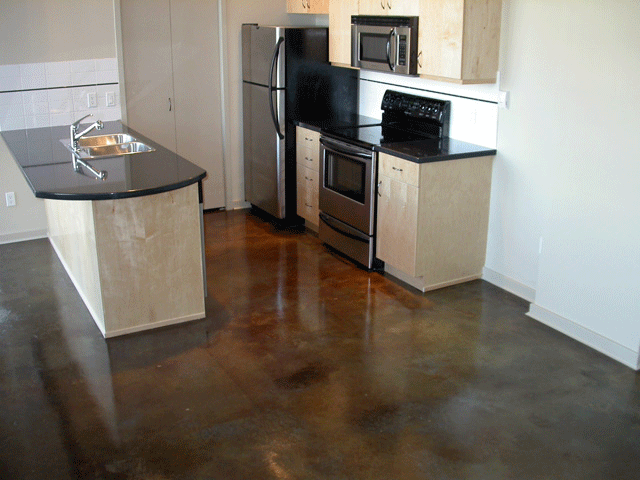 Concrete floor staining and design:
Job entails: Adding a decorative element or finish to a preexisting or newly placed concrete slab.
Duties:  Clean and prepare the concrete surface, protect adjacent walls and finishes, add color and/or design elements to the surface, Seal and protect the surface, remove and details the area.  May also sometimes include protecting the surface from upcoming construction.
Pre job duties- Sell the job, collect a deposit, educate the customer or end user on the benefits of and characteristics of concrete finishes, create an approved color and finish sample, gather materials and schedule the work to gain uninterrupted access for a predetermined amount of time.  
Post job duties- Repair damaged areas of the floor that may have occurred during construction, Apply final finish coats if necessary and agreed upon, collect final payment. 
In general this type of work does not require a vast knowledge of concrete pouring and placing.  Tools used are often small hand tools, mops, sprayers and tape and preparation materials.  Often does not require heavy lifting nor the use of aggressive machinery.  Can be started small and grow with experience.
Experienced applicators with an eye for design can create high end finishes with a price to match.  Material costs are generally low and initial tool requirements are a fairly reasonable investment.
Negatives:  Often times in large markets will have more competition, floor work can sometimes be hard on the knees, work is done on site and you must accommodate to the site conditions which vary with each installation.
Positives:  Very quick results for immediate gratification, allows you to express yourself, can be very lucrative, a lot of opportunity for growth into other related markets, can be trained fairly readily to employes making it easier to grow your business.  Can be done all year because it is done both inside and out.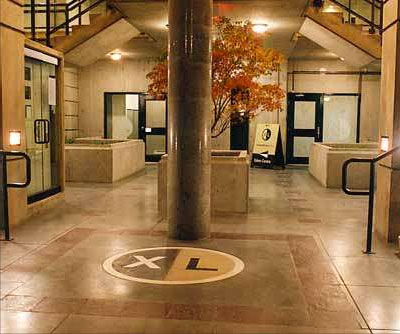 Concrete resurfacing:  Job Entails: Adding a new cement based finish to an existing stained or damaged or newly placed concrete. Often with a color. pattern, and design.  Tapping into the huge market of renovation and construction this industry opens the door to many possibilities.  When home owners or businesses want to rejuvenate or add a decorative element to their concrete but want something a stain or simple color can't achieve, Concrete resurfacing has many options.  
Thin polymer modified cement resurfacing systems add a new canvas or finish to concrete, they hide cracks, stains and problem areas replacing them with a new vibrant surface that can totally update and upgrade an environment.   Used on both interior and exterior slab, these systems help the owner avoid the expensive and intrusive costs associated with tearing out and re pouring a cracked or stained concrete slab.  
Pre-job duties:  visiting the site to determine suitability of the system, creating an approved sample, scheduling a time frame based on conditions and weather.  Collecting the deposit, ordering and readying the materials.  
Post job duties:  Cleaning up surrounding area, final seal coat, collecting balance of payment.
Job duties:  Once a specific look and system has been approved, surface cleaning and preparation must be done, sometimes with a washing and cleaning and sometimes with grinders or surface preparation equipment. Walls and surrounding equipment should be protected with paper or plastic.   resurfacing systems are sometimes applied in multiple coats or often are applied over a primed surface.  Resurfacing systems can be as simple as a one coat integrally colored finish to a multiple coat, patterned and color layered system.  Starting with a more simple design and slowly increasing the possibilities is how people grow in this industry.  
in this business there are interior systems that include, self leveling smooth finishes, to hand troweled thin resurfacing systems to stamped overlays which require the highest level of understanding and experience to pool deck resurfacing, driveway overlays and even vertical wall finishes.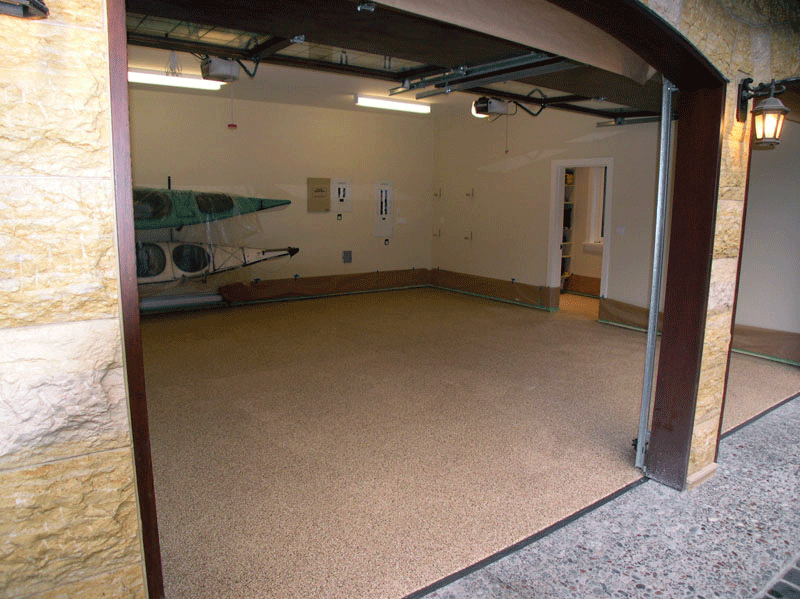 Epoxy Garage Coatings:  With home prices rising and more and more people choosing to add to their existing home rather than buying new, garage coatings and organization systems are taking off.  The concept of this industry is to add a high end easy to clean and functional surface finish to a previously grey or chipped paint finished garage.  Professional grade epoxy coatings surpass those available at your local hardware stores and give professional quality results.
Job duties:  Provide your customer with a pre determined selection of samples, asses the necessary surface prep required, protect adjacent walls and equipment, do any crack repair required,   Prep the surface, Prime the surface,   apply color flakes, remove unstuck flakes and seal with a clear coat (1-2 coats) & detail the project.
This type of business is great for those that want to eliminate the artistic element in the fact more epoxy coating systems are predetermined and do not require color layering and design input.  it can be easily taught to employees as the 'system ' rarely changes.  This type of work can lead to larger commercial and industrial floor systems for those that choose to expand into this market.
Can be seasonal due to the fact temperature conditions aren't suitable in some northern states.  You may need to move into interior work during these months.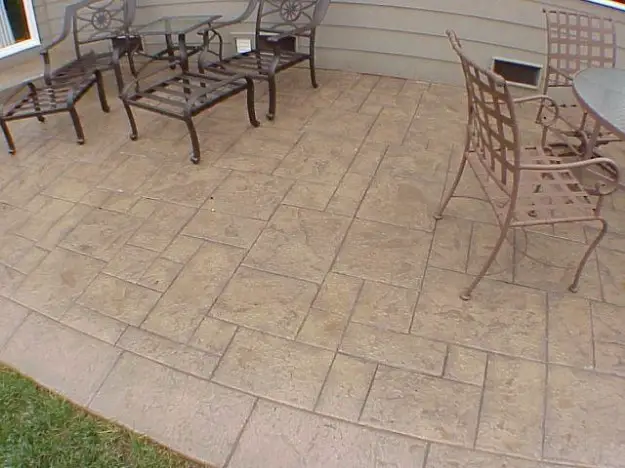 Stamped concrete:  Often reserved for those with a prior understanding of concrete placing and finishing.  This is an ideal way for an artist at heart to move from strictly functional finishes to the more complex and lucrative decorative finishes.  
Stamped concrete consists of all the elements of a functional concrete slab but also includes a decorative pattern, color and design.  After the concrete has been placed but before it has hardened,  concrete stamp mats or patterns are used to imprint or add a pattern into the concrete.  The process may include, adding an integral color into the concrete, adding a color at the time of placement onto its surface, called a color hardener, or/and adding an additional color to the surface to help the mats release called a release agent,  the actual stamping process, re-cutting control joints, then cleaning and sealing the surface once it is cured.
This is a very physical process and requires one to have the strength and endurance to finish a project once started.  
Polished concrete: Polishing concrete is done with large expensive machines that progressively refine and smooth out a concretes surface ultimately creating a high shined and polished finish.  A very time consuming finish, one must be patient as the machinery only moves so fast over the surface.   Multiple passes are also often required.  Although it requires a large up front investment this also makes it more difficult for many to get involved in this industry. 
Polishing companies are often interested in large open spaces where their machines can run easily with minimal walls and obstructions.  With large box stores taking this finish on as their standard many residential and smaller commercial companies are coming on board thereby increasing its demand.  
Job duties include:  Checking the suitability of the concrete for polishing, determining the level of shine acceptable by the owner, mobilizing equipment to the job-site and ensuring enough time has been given to meet scheduling requirements.  Running a polishing machine is a slow but sure process and can be handled by new and experienced operators alike.  The skill and experience come in to play when determining whether to polish wet or dry, which diamond grit to use and when to switch to the next polishing pad.
Positives: Can be done all times of the year, easy to train laborers, not just anybody can afford the upfront costs of the equipment keeping DIYers out of the industry.  Can be very profitable with minimal risk for large open spaces.
Negatives:  High entrance costs, time consuming monotonous work, must deal with heavy machinery transport and power requirements.
Concrete countertops:  One of the only fields of decorative concrete that allows you to do most of the work in a controlled environment.  Concrete countertop design and fabrication is becoming a very viable option in countertop selection.  Because of the superior product and systems available, and improved technology, concrete is a very functional and versatile material for creating , countertops, tabletops and vanities for home or business.
A concrete countertop company generally visits the site and determines whether the concrete will be poured and finished on site or pre cast back at the workshop.  Measurements are taken and a design and finish are agreed upon.  Because of the blank canvass by fabricating from scratch concrete elements can be designed any way possible although it is recommended that some standard finishes are available to help narrow the selection.  A form is created 'inverted' because the countertop is usually flipped over once complete.  Some measurement skills and basic woodworking ability is definitely an asset.  Concrete is poured into the form which then cures for a period of a few days.  The mold is then removed revealing the element.  finishing the piece may include polishing, additional coloration, and specialty insets and design elements.  It is also often part of the job to instal the countertop on the job-site as well as mount the sink and backsplash if any.  Plumbing hookups and such are often beyond the duties of the countertop installer.
This business can include, outdoor cooking tables, bathroom vanities, concrete tiles, vessel sinks, and almost anything else cast and poured out of concrete.