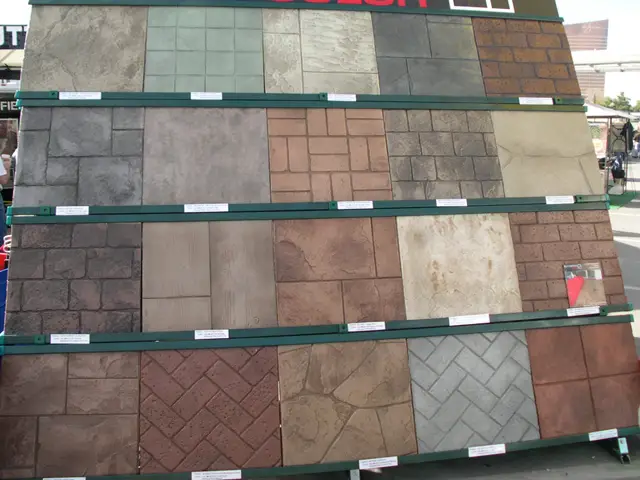 Adding a Decorative Stamped Concrete Impression into freshly placed concrete for amazing eye catching and realistic results.
Definition: Stamping or pressing a pattern or design onto freshly poured concrete leaving an impression that eventually hardens.  Often times used to give the look of rock, stone, brick, wood or custom patterns.
Stamped Concrete is one of those trends that is going to stay.
Stamped concrete is one of the best ways to cover large or small areas of ground or flooring with a realistic and functional finish.  Stamped concrete recreates the look of stone, rock, brick, pebble, wood and other custom patterns.
The beauty of a stamped concrete finish is that it can be done on slopes, uneven ground and hilly areas.  Concrete is fluid and will contour and follow the surface that it is applied to.  Keeping in mind that the surface or ground preparation is critical for a long lasting crack resistant installation.
What is Stamped Concrete?
Stamped concrete is a slab of concrete often used for driveways, walk-ways, patios, pool decks flooring etc, that is embossed with both patterns and textures onto its surface before it fully hardens and dries.
Before the advent of concrete Stamp mats, a lesser form of stamped concrete (sometimes still used today),  was often used by simply imprinting a pattern but with no texture. Todays stamped concrete has texture, color and depth that gives it a very realistic look, feel and finish.  Typical patterns for stamped concrete include pebble, stone, cobblestone, brick, pavers, flagstone, wood plank with grain, sea floor and shells, and many more.
This is one of the original decorative concrete methods to add a pattern or texture into a freshly placed concrete slab.
There is a reason this finish has created a concrete revolution.
Stamped concrete allows the addition of color, patterns, borders, inlays and custom design thereby changing the way we look and use concrete forever!
With standard patterns mimicking tile, stone, rock, wood and other textures surfaces, stamped concrete allows a large area to be functionally decorated while maintaining the integrity of concrete itself.
The Process of Stamped Concrete
Stamped Concrete is the process of pressing decorative or natural impressions into wet concrete using rubber stamps. This is a great way to add a unique flair to your driveway, pool deck, patio, walkway or walls.
There are many benefits to using stamped concrete. Concrete is one of the most durable building materials available for paving, which comes in handy in high traffic areas such as driveways and walkways.
Choosing stamped concrete over other paving materials such as natural stone can be a more economical choice. Done right, stamped concrete can look just as high quality as these other methods. For instance, a stamped concrete job can be installed in a portion of the time as natural materials takes, which allows contractors to be more productive.
The biggest advantage to stamped concrete is the flexibility. Concrete stamping, combined with different finishing techniques, allows for unlimited design opportunities such as aged cobblestones, brickwork, flagstones, slate tile, marble, granite, Wood, or just about any natural surface.