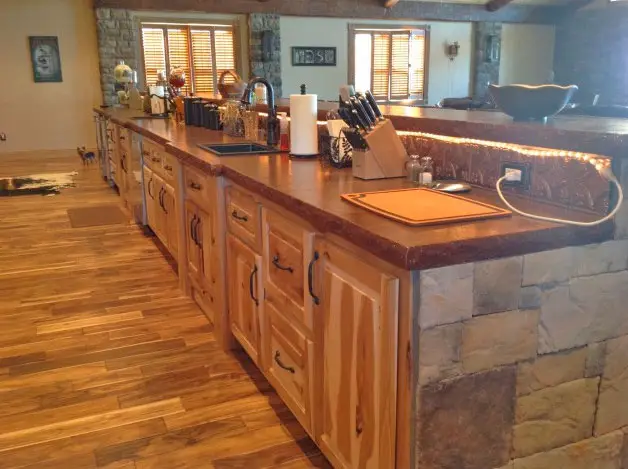 The popularity of concrete countertops is rapidly growing. Concrete countertops can be fully customized with any type of color or finish, as well as with embedded objects, such as built-in sinks, drying racks, and soap dishes. The flexibility they offer is virtually unrivaled. When installing a concrete countertop, it is critical to choose a high-quality sealer to protect its surface. When applying a concrete countertop sealer, here are a few things that you will want to keep in mind.
Consider the type of look you are going for. Concrete sealers are available in a wide variety of options. For example, sealers can be used to create a glossy or natural look or darken the color of the concrete. Concrete Countertop Solutions offers the Z Poxy epoxy sealer in a range of colors to produce glossy finishes.
Consider whether you need an indoor or outdoor sealer. An outdoor sealer can provide extra protection to an outdoor concrete counter that is exposed to wear and tear by the elements, such as rain, snow, and wind. For kitchen countertops, you might choose an indoor sealer that protects the counter from food and beverages. For example, Concrete Countertop Solutions' Z SiAcryl 14 is a water-based penetrating sealer that will repel food and beverages, including vinegar, wine, and lemon juice, if they are spilled on your countertop, protecting it from damage.
Try out a bit of sealer on a small chunk of countertop before you seal all of the concrete. Before you slather your countertop in sealer, it is best to do a small test run. Apply the sealer to a small chunk of concrete and wait for it to fully dry or cure to evaluate how it looks. Remember, it sometimes hard to predict how a sealer will look on your countertop, so it is better to be safe than sorry.
Make sure you follow instruction. When applying a countertop sealer, it is important to thoroughly read and follow the manufacturer's instructions. Failing to follow the instructions could affect the outcome, so before you break out the sealer, start reading.