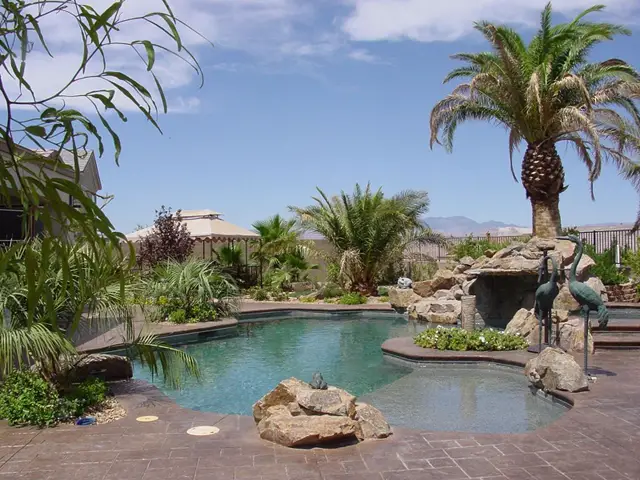 When it comes to helping your pool stand out amongst the commonplace, the difference is in the details. One of the most important elements in your overall pool design is your coping – it's not only structurally significant, it's also a way of adding visual impact.
The latest in pool design is similar to that of an undermounted sink, where the edge cantilevers over the basin making it continuous and seamless.  This look is trending as a premium finish and latest design choice.  The look is a continuous concrete decking that takes your deck right up to the very edge of your pool and even slightly overlapping allowing for water to easily flow back into the swimming pool.
To achieve a cantilevered pool coping edge in the past, a plastic form was used and left in place for the life of the pool deck.  Although this is very functional it leaves a white unappealing edge all around the pool and seems to degrade from the final look.
Some companies like Stegmeier LLC ™ have produced a Styrofoam edge form that has been used to create a concrete edge around pools but this technology is now dated and time consuming compared to what is now available.
Z Poolforms from Concrete Countertop Solutions allows pool contractors to create top of the line cantilevered edges to meet the demand and design trends of the swimming pool industry.
Not only are Z Poolforms able to create beautiful custom pool coping edge designs they are the # 1 choice for pool builders who want a reusable system that increases profitability every time they are used.  Being made out of PVC with custom rubber edge details each form can be cleaned and reused time and time again.
Custom Edge Designs
There are currently 7 pool coping edge design textures available and include edges like:
Chiseled Slate
Chiseled Stone
Bullnose Slate
Bullnose Travertine
Bermuda Form
Bullnose
Square
When you are choosing your design for your pool coping or need to replace your damaged coping, consider Z Poolform as the solution. It delivers clean lines, and you can use the Z Poolform coping edge forms in conjunction with several types of rubber form liners that offer a choice of textures and styles.