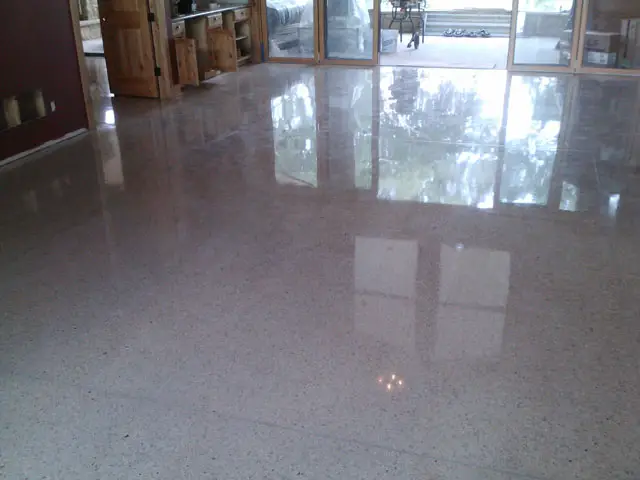 The process of polishing concrete involves the removal of material from the surface of the concrete with progressively finer grits of diamond enhanced disks. The diamond grit is set in a ma-trix of either metal, which is used initially in the grinding process, then in a resin matrix for the finer work of polishing.  The disks become finer in grit until the desired level of sheen is achieved.
In the initial phase of surface grinding, the disks consist of sintered metal and diamond molded until either round or trapezoidal shaped plates designed to aggressively flatten out the normally uneven surface of a concrete substrate.  The grit range of this stage of the process typically con-sists of 25, 40, 80 and 150 grit disks.  Not only does this process of progressive grinding result in flattening the surface, it also removes leftover residues.
The move to a resin based matrix allows for grits in the range from 50 up to 3000, for an unpar-alleled shine.  While this stage is typically accomplished using a dry environment, occasionally it is necessary or desirable to employ a wet grinding technique.  Wet grinding can be used when the grinding process is producing excessive heat or there is glazing over the diamond surface.
Den-sifiers can also be used during this process, depending upon the quality of the concrete and the degree of hardness in the substrate. Densifiers are also used to minimize dust and porosity.  It is also at this stage that the concrete can be stained with color or scored with designs.
The most critical aspect of planning the polishing process is initial observation.  A successful polish demands a careful inspection of the substrate.  Observing the hardness, porosity, existing coatings, cracks or excessive imbedded materials can all be addressed in the planning of the pro-ject. Careful planning makes the execution a far easier and enjoyable process.  Taking your time and following each progressive step will result in a floor that is lustrous and will last for years of low maintenance use.
Maintenance typically involves a simple burnishing that will bring back the original shine.