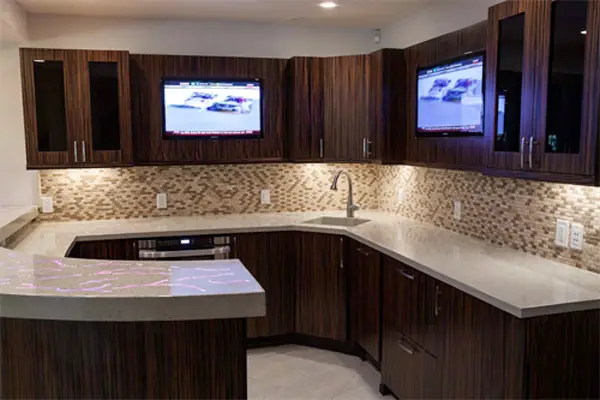 In recent years, concrete has become increasingly popular for indoor projects. While concrete countertops lend themselves well to the popular industrial look, the use of a variety of techniques and hand crafted elements makes them ideal for creating a range of unique styles, custom features and one of kind textures and designs.
Those who are interested in a countertop that offers a custom style while remaining reasonably  lightweight yet structurally sound may find that GFRC is the perfect option.  Companies use Glass fiber reinforced concrete, or GFRC to create original pieces for the most discerning clientele.   GFRC becomes an extremely strong composite material.  Constructed of cement, polymer additives along with injected glass fibers. GFRC combines these elements allowing you to reinforce concrete while increasing the countertop's load-bearing capacity. The one significant difference that exists between traditional concrete and GFRC is that GFRC makes it possible to take advantage of virtually unlimited design options but not adding an unreasonable amount of weight..
For consumers who are eco-conscious and are interested in sustainable building techniques, GFRC proves to be a good solution. When a GFRC countertop is constructed, there are little concerns about waste. Any material that is left from that project can be used for another project. Furthermore, the actual materials used in the construction of GFRC countertops are ecofriendly. This is because the glass fibers used are often made from recycled or reclaimed materials.
A Brief History of GFRC Technology
While GFRC might sound as though it is a new technology, it has actually been around for quite some time. In fact, this technique was originally developed in the 1940s in Russia. By the 1970s, technological advances had made it possible for GFRC to become even stronger and more durable. As a result, GFRC now makes it possible to create concrete that is stronger, thinner, and more resistant to cracks, properties that make it ideal for the production of countertops. In addition to the production of countertops, GFRC is also an excellent choice for producing fireplace surrounds and other products.