In addition to being a functional form of heat, a beautifully designed fireplace is a major point of interest. If you want to transform an ordinary fireplace into something extraordinary, have the experts from JM Lifestyles design a concrete fireplace surround.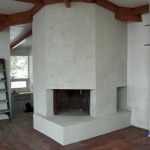 The artisans at JM Lifestyles can create a standard surround that fits most any firebox. You can choose a standalone surround or one set with a gorgeous hearth and/or mantle. Best of all, you decide on the texture and color. The experts at JM Lifestyles can also create a one-of-a-kind concrete fireplace surround based on your home's design. Once installed, the new concrete fireplace surround will make the room feel warm and cozy.
Additional Possibilities
With more than 20 years of experience and expertise, the artisans at JM Lifestyles have the ability to create virtually any look you want for your new concrete fireplace surround. Some other options include:
Traditional – A flush hearth coupled with custom inset panels is ideal for a traditional aesthetic.
Brick Replacement – Although you have other options for updating a brick fireplace, one of the best and most innovative remedies involves the use of concrete.
Contemporary – Because concrete is so versatile, the experts with JM Lifestyles can design and create a surround that looks rustic or modern. For a contemporary home, consider a concrete fireplace surround with a raised hearth.
2-Sided Fireplace – With a two-sided fireplace, you can enjoy your fireplace in two adjoining rooms.
EcoSmart Fireplace – An EcoSmart fireplace that uses ethanol does not require venting, so it can become part of a custom focal point for any room.
JM Lifestyles is comprised of artisans and designers who use innovative materials and techniques for creating impressive designs, utilizing concrete as an artistic medium. Beyond being beautiful, a concrete fireplace surround is made from clean, renewable products.