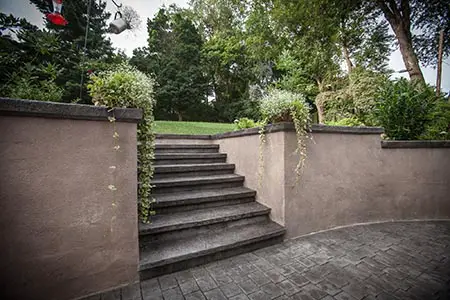 Retaining walls are used for many different purposes in landscapes today. The primary function of a retaining wall is to level or retain a current slope. The higher the slope, the more complex the retaining wall construction might be. Concrete retaining walls also serve an aesthetic purpose, adding dimension and interest to the outdoor space with defined, multi-level planting spaces. Whether you would like to build a small retaining wall to house a few of your favorite flowers or need a larger structure to accommodate a slope in your yard, your choice of designs and colors are vast. Check out these options in concrete retaining walls to see what works best for your outdoor living space.
Poured Concrete
One beautiful option in a concrete retaining wall today is a poured concrete structure. These walls are created using a form and a liner to get the faux finish you want. You can have a poured paving wall that looks like stacked stones or bricks. These walls can be created in any size or color you choose. The wall is poured first, and then stained to enhance the effect. These retaining walls are best left to professional concrete contractors who have the tools and experience to do the job correctly. Most contractors that specialize in these types of projects will have an array of patterns and colors to choose from.
Concrete Pavers
This is another popular style for a retaining wall, especially in light of the fact that colors and patterns have broadened extensively in recent years. You can find concrete pavers in a wide range of designs and colors so you can customize the look to your outdoor landscape. Choose pavers in a single hue for a wall that is uniform in appearance. You can also opt for two or three different shades of pavers to create a unique pattern across your retaining wall. While it might look easy enough to stack your own retaining wall out of these concrete pavers, many find that hiring a concrete contractor will get the job done more quickly. If the wall will be higher than a foot or two, it is also a good idea to use a professional who will ensure your retaining wall can stand up to the pressure.
Shapes and Colors
Many homeowners find that the most attractive concrete retaining walls will curve with the natural bends of the casual landscape. Others prefer a straight retaining wall with plenty of right angles for a formal look. Your contractor can help you choose a shape that will fit best with the rest of your outdoor design. Color is another factor that comes in a wide range of options. You can use the traditional grey, but most homeowners prefer a more decorative shade of red, tan or green to add interest to the space.
A concrete retaining wall can solve many of your landscaping dilemmas and add beauty and dimension to your yard. With so many choices in retaining walls today, it will be easy to find a design to enhance your outdoor living space.