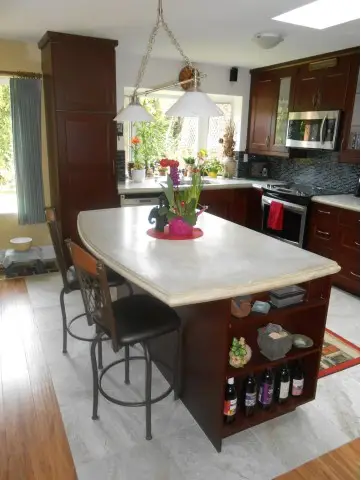 If you're looking to create a more vibrant kitchen, the solution could be as simple as using white concrete countertop mix. Counterform Countertop Mix is a pre-blended, high-strength white concrete designed specifically for use with casting concrete countertops. This all-in-one mix features the highest-quality blend of fine aggregates, proprietary admixtures, and Portland cement to ensure no shrinking or curling occurs. Most of our customers report that this product pours, flows, and fills better than any other concrete countertop mix available on the market. The secret behind the effectiveness of this product is the acrylic fiber network, which makes it the best choice for use in pre-cast or cast-in-place designs. In fact, the nonintrusive reactive fiber system is responsible for offering increased tensile strength.
Offering Quick Cure Time and Ample Design Flexibility
Most people are naturally concerned about cure time when building concrete countertops. If you are working on a tight timeframe, you certainly do not want to have to wait a long time for your concrete countertops to cure before you can move to the next phase of the project. One of the advantages of Counterform Countertop Mix is that it offers a quick cure time, even allowing for grinding and polishing 24 hours later. Additionally, this concrete countertop mix works with all integral colors, stains, and hardeners.
As concrete has become an increasingly popular choice for kitchen counters, many consumers have begun to look for a way to brighten up designs and create more vibrant spaces. A white concrete countertop mix, such as Counterform Countertop Mix, is the ideal solution for such designs. Whether you are interested in creating a bright white effect or you are considering including an integral color, this mix is ideal for creating sleek, modern designs.