The general premise behind installing a decorative concrete floor overlay is to always go overboard on surface preparation, use top quality concrete products and have a crew of trained installers to do it right.
Of course in a perfect world everyone would have the money to afford only the best and there would be no reason to cut corners or cheap out on products and labor.
Here is a basic breakdown of how to properly install a decorative concrete self level topping system, add color and then protect and seal the surface finish with a clear coating.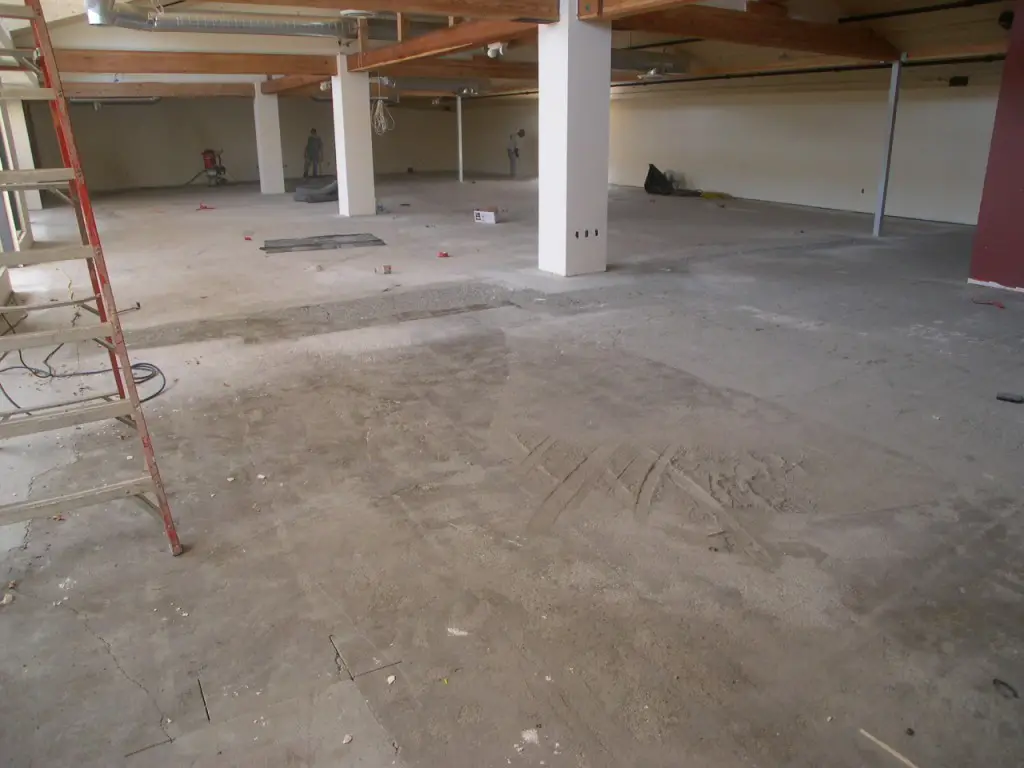 Step 1: After a site visit calculate the amount of material required and how you will be accessing the job site,  schedule, and special requirements.   Look for power, water and lighting.  You will often find the surface is in disrepair on Tenant improvements therefor figure out how to efficiently clean and get the surface ready.
Step 2: The surface should be cleaned and prepared.  The best way to get your overlay or topping "stick to" is with a clean and rough surface profile.  A shot blaster is a great way to clean and profile the surface, on large jobs its fast and efficient but another but longer way to do it is with a grinder.
Remove high spots and patch any cracks or voids where material may seep.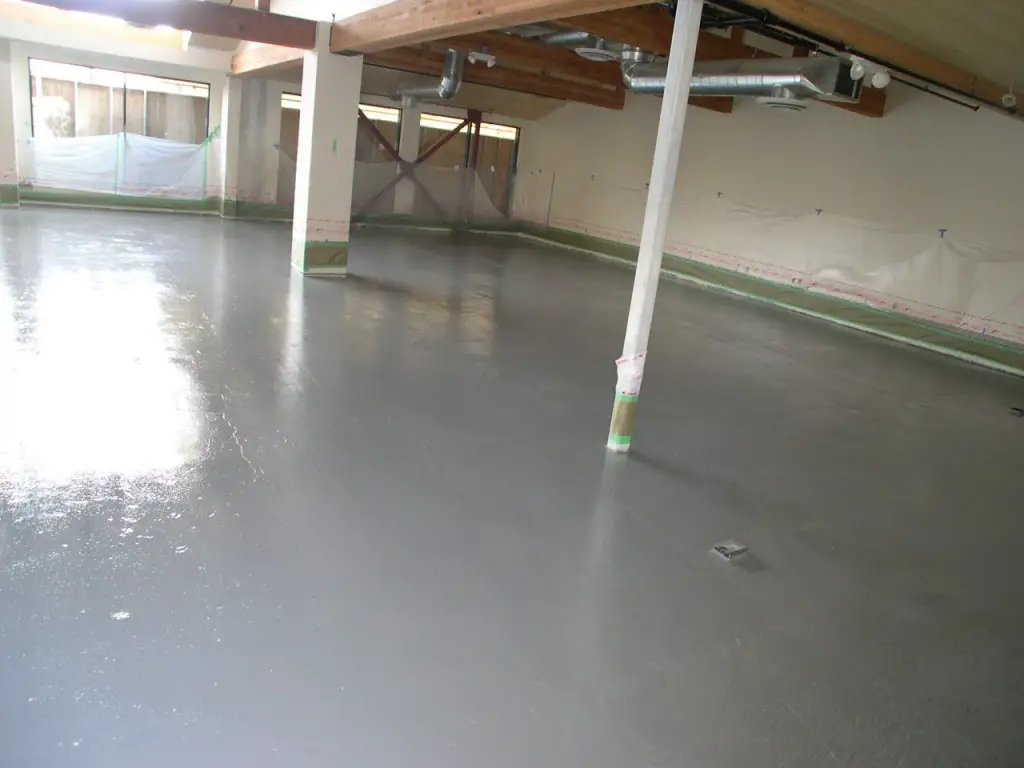 Step 3: After the walls are protected and all floor patches are dry and set, you can install the primer coat.  This floor was in terrible condition so an epoxy primer was used for optimal performance.  For ease of use on a good floor contractors often use an acrylic water based primer.  This will not only seal the surface to avoid air bubbles but will create a tenacious bond to the substrate.  This topping will not come off.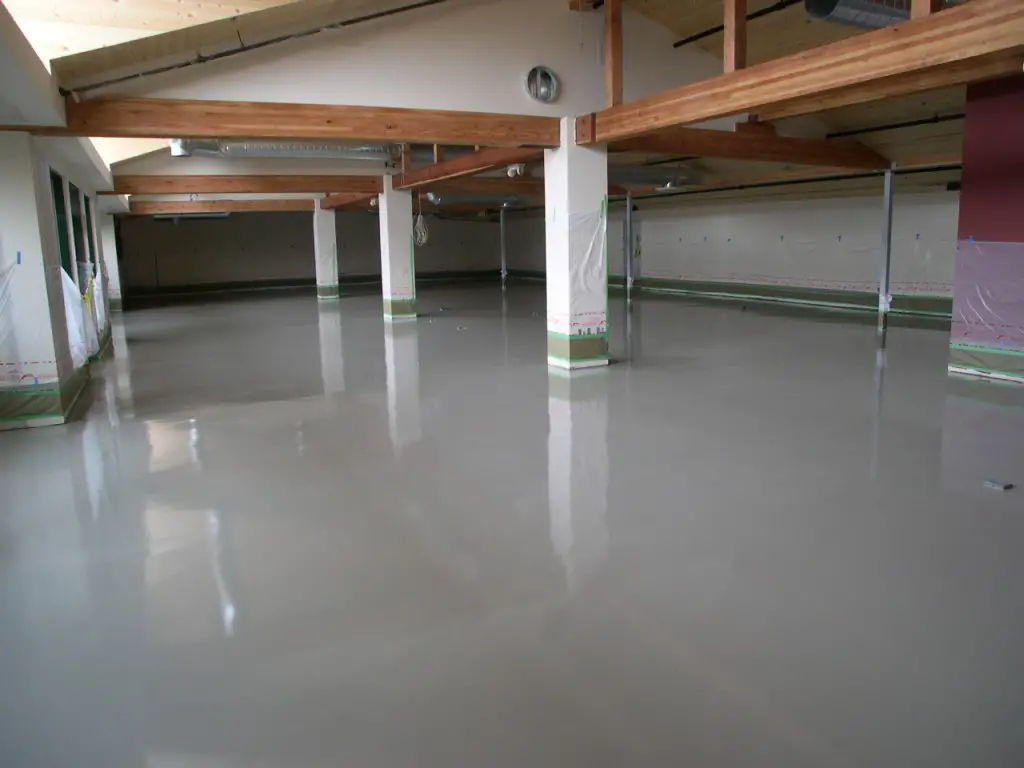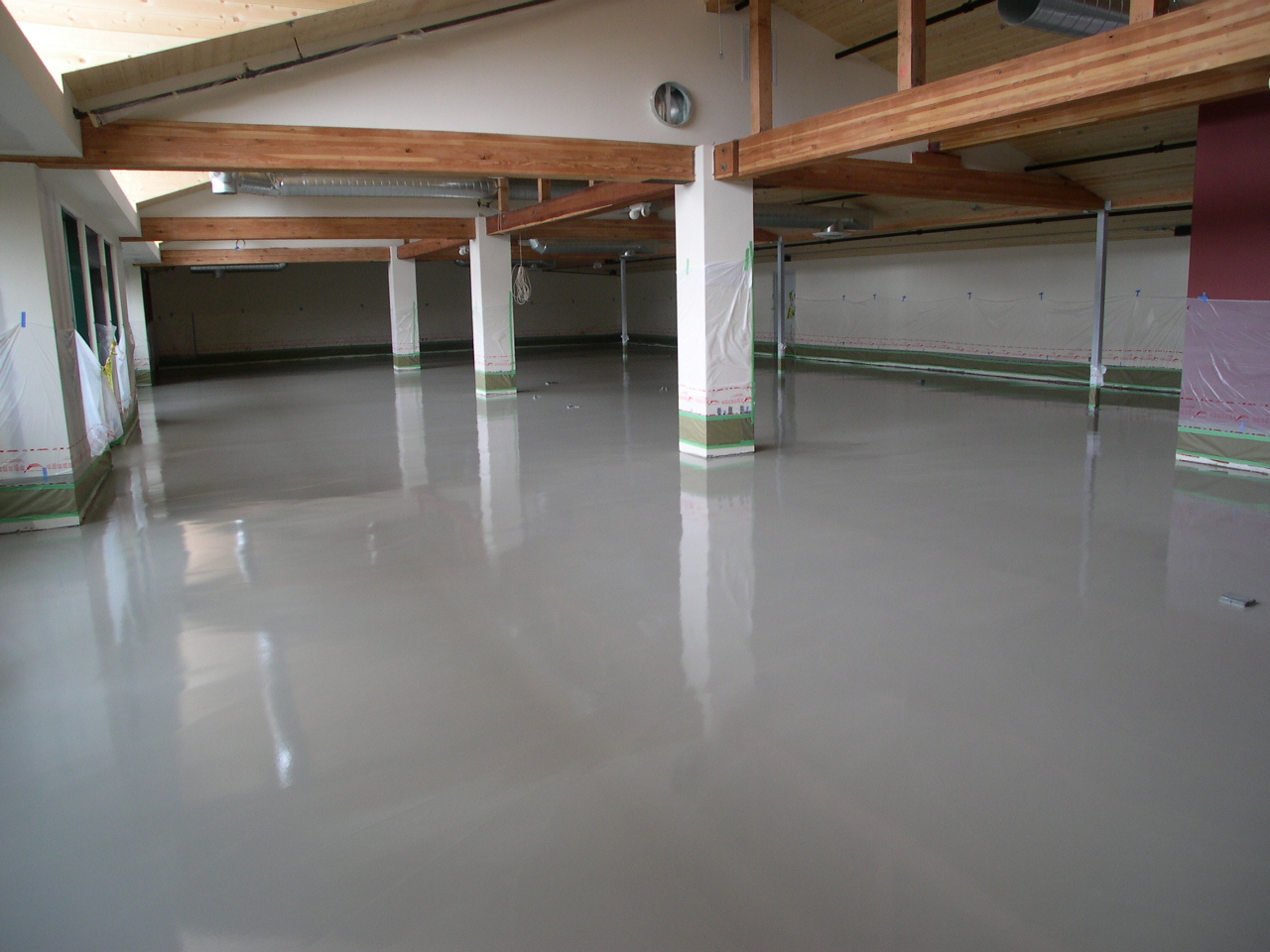 Step 4: The self level topping is installed as per manufacturers directions.  This image shows it still in its wet state.  Many concrete self level topping will dry within 4 hours and be ready for color within 6-12.  I always prefer an overnight dry.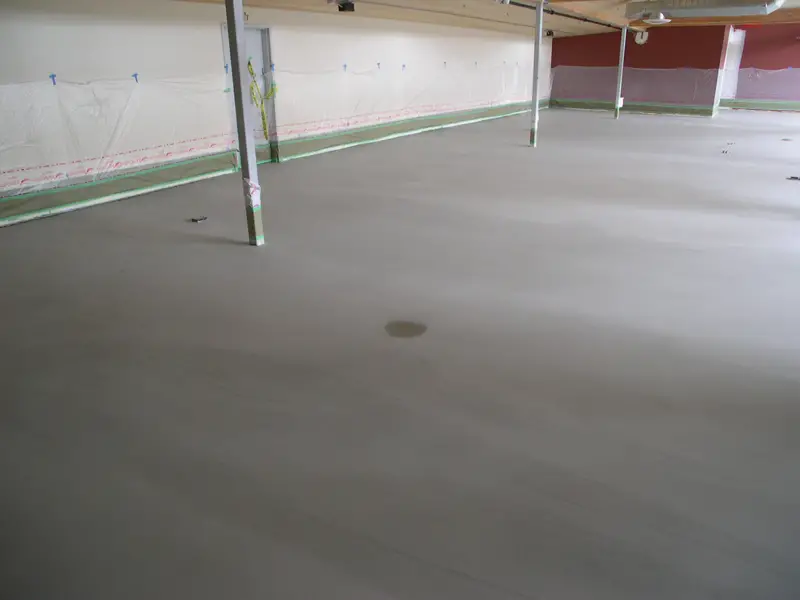 Step 5: After the concrete has set you will want to fix or repair any issues that will appear in the finish.  On this project you can see that there is a water spot from a leaky roof- This should be fixed to prevent damage to the finish.
Step 6: Concrete toppings can be colored many different ways.  On this project the coloration used was a dye.  The dye if applied correctly provides a natural earthy and varied tone of color.  The secret with dyes is to apply them in layers of varying colors to achieve depth and undertone.  *TIP using paper along the bottom of the walls instead of plastic prevents the dye from dripping and running down the wall on to the floor creating a poor quality finish.
Step 7:  The top coat sealer is applied and locks in the color, give the floor depth and protects the surface from damage and stains.  Many different coatings are available and vary in price and function.
Step 8: After everything has dried and cured you can remove the wall prep, tape and detail all the thresholds and doors.  Wipe any overspray and clean up the jobsite.  This is a finished floor that was installed in over 30 Sur La Table locations across the US.