Contractor Source and Walt tools is your one stop shop for the best price and quality Concrete Stamp mats and tools around – Stop by one of our locations or order online at www.walttools.com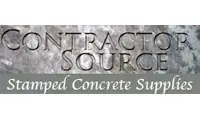 The Contractor Source
322 W Frontier Drive
Minooka, Illinois – 60447
Phone:  1-888-263-5895
"The Contractor Source offers quality tools and supplies made for decorative concrete professionals, from concrete professionals. Walttools' line of Tru Impressions concrete stamps, concrete overlay stamps, seamless skins, and concrete stamping border rollers produce superior results. When used with Tru Impressions concrete color hardeners, concrete release agents, and concrete sealers, customers can only expect to get Tru Impressions. The Contractor Source is also a leader in the vertical concrete arena with a complete line of carving and texturing tools. Contractor Source also carries concrete integral colors, concrete flex forms, concrete float bars, concrete chutes, and professional grade finishing tools. When a customer's decorative concrete stamping projects demand the best concrete supplies and tools, they should count the Contractor Source.
Because they are a direct from manufacturer operation, it enables The Contractor Source to provide products equal to, or often better than the competition and at better prices. They offer decorative concrete stamps in a variety of patterns, concrete rollers, various color and sealer products, and a selection of other tools for all of a contractor's decorative concrete needs. Their line of products and services includes, but is not limited to:
• Concrete Border Stamps
• Concrete Chutes
• Concrete Color Hardener
• Concrete Countertop
• Concrete Flex Forms
• Concrete Float Bars
• Concrete Integral Color
• Concrete Overlay Stamps
• Concrete Release Agents
• Concrete Sealers
• Concrete Stain
• Concrete Stamping Border Rollers
• Concrete Stamps
• Concrete Tools
• Decorative Aggregate
• Decorative Aids
• Decorative Overlay
• Grout Tools
• Seamless Skins
• Step Inserts
• Vertical Concrete
Developed by contractors to help better service concrete contractors, The Contractor Source knows that their fellow tradesmen need affordable products that will complete jobs, specialized or not, in a timely and efficient manner. Contractor Source product engineers have spent years in the field and understand the need for products that ease job frustration and stress. That is the firm's goal: to provide their clients with the products that enable customers to produce great job results.