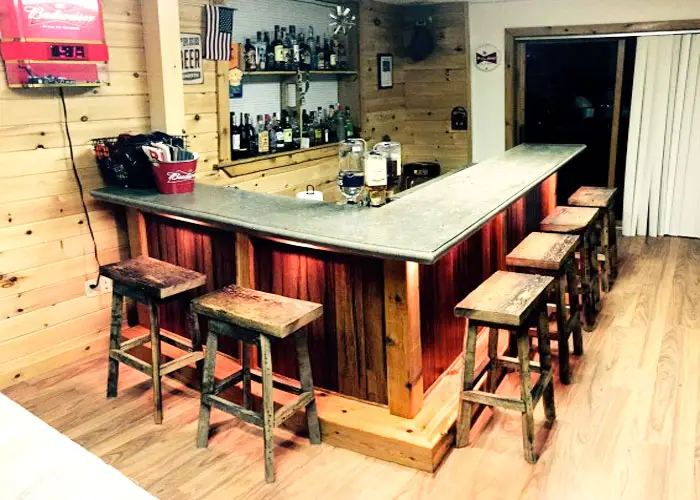 Step-By-Step DIY Concrete Countertops
When designing an aesthetically pleasing solution for a countertop, there is simply no other material that offers options like concrete. Do-it-yourself homeowners can create a wide assortment of countertops to show off their artistic design. Concrete surfaces can be designed to mimic natural stone, or create a dry, sleek riverbed surface using river stone and decorative pigments. Pigments and broken glass can be added to develop a high luster luminescent design. The possibilities of a creative countertop are nearly endless, with limitations only measured by the artist's abilities. The following step-by-step instructions can assist the homeowner when creating a decorative concrete countertop.
Step-By-Step DIY Concrete Countertop Instructions
Measurements
It is important to measure the cabinets in the kitchen, bar or bathroom from front to back, and side to side. Add an additional half-inch to cover the exposed drawers and doors. Remember that the countertop that will butt up against an appliance typically does not have an overhang.
Building the Mold
Underneath the newly constructed mold, a plywood grid a three-quarter inch material cut in strips of 2" x 6" can help minimize any type of deflection caused by heavy wet concrete. Generally, the mold used to encapsulate the countertop will be constructed out of three-quarter inch laminate melamine (dual-sided). Each melamine board for the floor the countertop must be cut to an exact size. In addition, every straight edge will require a 2" melamine strip to be used for the ends and the sides. They will be held in place using a minimum of 1 ¾" countersunk screws. Any rounded inside or outside curve will require using Masonite or fiberglass strips.
In addition, to ensure a watertight fit, every joint and seam will need to be caulked using high quality silicone. It is important to remember that silicone can easily discolor the finished concrete. Therefore, it is important that the silicone be completely smoothed out.
Mixing the Cement
Possibly the most difficult task in installing a concrete countertop is mixing the cement. The best results often are experienced by having absolute control over the mixture. The components of a quality blended mix contain ingredients that include:
One part Type 1or 2 cement
Two parts 3/8" rock (pea gravel)
Three parts sand
Water reducer
Water
Pigment
Pouring the Mold
The ideal solution is to have at least two people handling the pouring procedure. The mixture of wet concrete is best transferred using a 5 gallon bucket to move from the cement mixer to the mold. The product should be evenly distributed and flattened with a magnesium float. A light vibration will create "puddling" which will help reduce any air pockets that might have formed during the mixing process.
Through screening, or scraping away any excess concrete, the top can be made smooth. At this point, fabricators that make concrete countertops usually embed a quality mesh just below the concrete surface. This provides extra durability.
Throughout the drying process, the surface needs to be finished, smoothed, and imprinted (if required). It should be allowed to cure for at least two days to four days to ensure proper drying. The ideal temperature to ensure the concrete is fully cured is roughly about 80°F.
Related Topics:
How to Make a Concrete Countertop
Functional Concrete Countertops
Countertop Color Choices
Kitchen Countertops
Bathroom Vanity Countertops