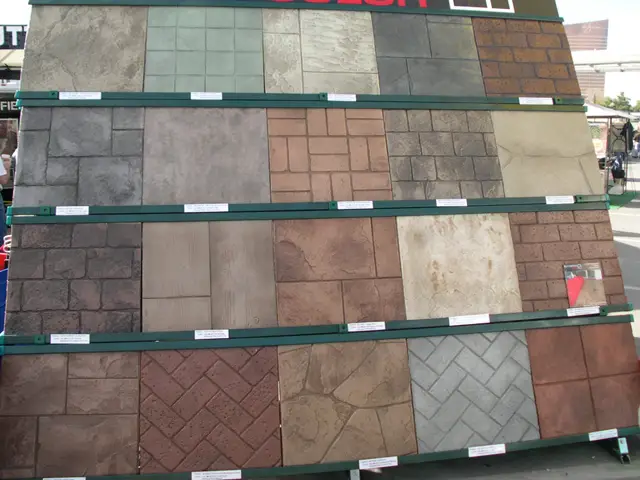 When a natural stone appearance and rock, brick or patterned look is desired, stamped concrete is the choice of those looking for a long term, cost effective and beautiful finish. By embossing or stamping a pattern into freshly placed cement, various designs and colors are used to replicate a real natural stone appearance.
Summary of the different types of Stamped Concrete Equipment

Rubber Stamp Mats and Patterns – Rubber Mats used to emboss or press a pattern into the setting concrete. These come in a variety of sized and shapes depending on the desired pattern.
Tampers, Roller Mats & Tools – These tools help to press the mats into the setting concrete, either as a whole or to fix edging and detail the pattern for the most realistic finish.
Trowels, Bull Floats, Screeds and Edgers – Necessary equipment to have for placing and finishing the concrete slab before stamping begins
Admixtures and Chemicals– Chemicals used to quicken, slow down or control the setting and consistency of the concrete depending on water requirements and temperature and environment.
Forms and Edges – Placed along the outer edge of the slab to create a barrier as well as can add a decorative outer edge.
Sealants and Release Agents – Used to seal and protect the concrete and release agents are used to help the mats release after the stamping process. Can also add additional color highlights.
Liquid Rubber and DIY Form Products – Two component liquid rubber to create your own custom forms and patterns.