Before hiring a pool and spa contractor, determine if you want a custom swimming pool or swim spa. To do this, you need to understand the primary difference between the two.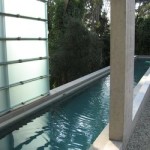 Custom Swimming Pool – As imagined, a custom swimming pool is designed according to various factors, including backyard space, type and frequency of use, personal preference, and so on. With a custom pool, there are no limitations as to the overall design and function.
Swim Spa – In comparison, a swim spa is a specially designed pool that allows you to swim continuously against a current. In other words, when swimming laps in a custom swimming pool, you turn around after reaching the opposite end. However, with a swim spa, rather than turning around, you keep swimming against the water current.
Choosing the Right Professional
Typically, if you want something the entire family or a group of friends can enjoy but as well as a means of exercise, a custom swimming pool is an excellent choice. In this case, you choose the exact size, configuration, materials, and amenities. Now, if you want a pool primarily for exercise, a swim spa would be a good option. The decision really comes down to how the pool is used.
Just remember, whether you are choosing a beautiful custom swimming pool or swim spa, you want to work with an established company like Min Yoshida Pools. With more than 30 years of experience and talented professionals, you are guaranteed a custom swimming pool or swim spa that exceeds your expectations. Our experts have access to superior systems to ensure you pool provides long-lasting use. The professional that you work with will keep you connected throughout every stage of the project, including landscaping, if needed.