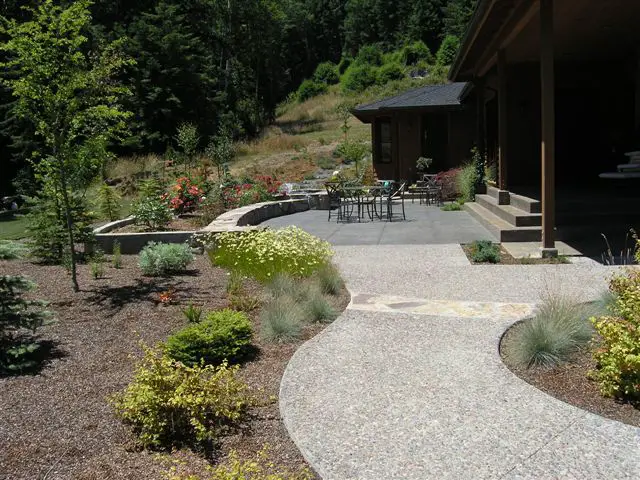 Exposed aggregate concrete is a great concrete slab finish for those who like a more natural finish while providing traction and still allow for a variety of color and design choices.
Keeping the exposed aggregate looking it's best takes a little time and usually requires the applications of a concrete sealer.  Concrete sealers come in a variety of compositions, but there are some that are ideal for exposed aggregate concrete.  When choosing a sealer, check to make sure the  sealer is non-yellowing and preferably water-based, although solvent based sealers are not as user and environmentally friendly to use they usually provide a more durable sealer.   Most exposed aggregate sealers come in a glossy finish.
Step 1-4 for Sealing Exposed Aggregate Concrete
Step 1 – Clean the Exposed Aggregate –
Step 2 – Gently Stir the sealer to make sure it is properly mixed, try not to introduce air bubbles into the mixing. (you can add an anti slip additive at this time)
Step 3 – Test an area of your Exposed Aggregate with the sealer to ensure the look you want.  Once satisfied with the test area, continue to apply the material by Roller or Sprayer in as consistent a manner possible to create a uniform finish. Multiple light coats are aways preferred over over heavy thick coats.
Step 4 – Mark off the area and protect it from traffic and rain for 24-48 hours.
With a fresh new seal coat the exposed aggregate pebbles will look rich and deep in color and will create a beautiful finish that should last for 2-3 years before you will need to re-coat or re-seal your concrete again.