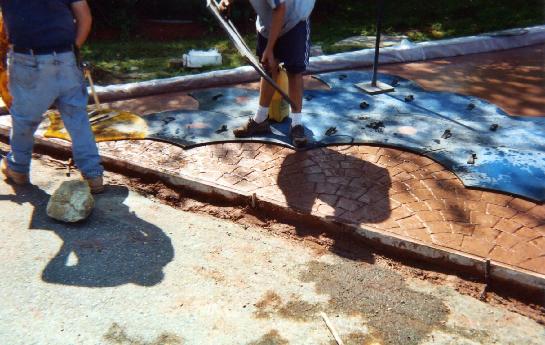 Select Value over Price.
If you are receiving prices from a variety of Decorative Concrete Professionals you may have noticed that prices can vary quite substantially.  In this extensively complicated world of Specialty concrete there are many reasons for price fluctuations and differences.  Let us try to explain why the cheapest is not always the best (usually never) and why a few more dollars spent initially could save you a bundle in the end.
First things first:  You've heard this before –Compare Apples to Apples.
Make sure the bids include the same scope of work.
Make sure the systems are comparable.
Check the time frame required by each company.
Compare warrantees and guarantees
Scope of work:  Some companies provide additional services which may raise their prices, Things commonly added or left out of bids are Surface prep, wall prep, Protection of the surface after completion.  These items are commonplace with full service companies but are often neglected or not considered important to others.  Make sure your professional has your best interest in mind and the final quality of the project.
Comparable systems:
With hundreds of products, manufacturers and systems available how do you know your getting comparable bids?  Although it can get quite confusing once you've opened the doors to decorative concrete information, like most things it is up to you to do your due diligence.  Ask the professionals for product data and technical data sheets on their systems, visit the websites and research as much as possible.  Compare the products and then try to see them in use.  If you are using an architect this is their job, have them give you the information or the data they have already collected.
Ask questions.  The only dumb question is the one not asked.  You are not expected to have all the answers nor be an expert, in decorative concrete.
Time frame:
One company may require 3 days for the complete installation while another may require a week.  In the tight time frame of construction, days are critical and especially in a retail or commercial setting three days open early could add up in revenue.  On the other hand if a company can extend their schedule by a day or two it could eliminate overtime pay and lower the installation price.
Warrantees and guarantees:
You've heard it before at the local electronics store "would you like to purchase the extended warrantee?" Why should your decorative concrete investment be any different.  If a company puts a warrantee or guarantee on their work it has value while some companies get their final payment and will never be heard from again, some are always there to stand by their installation and provide service when required.  This type of guarantee is priceless,  It isn't always a bad thing to pay a little more for the peace of mind that comes with working with a professional company.
Intangible Value:
Experience and knowledge – How do you put a price on experience and knowledge.  Although Decorative Concrete could be initially viewed as an easy trade, just by opening the doors (or should we say floodgates) of information you can see that this industry is quite complex and in depth. Most successful companies are usually comprised of extremely talented artisans and craftsmen and have some advanced levels of experience and knowledge.  Most decorative concrete finishes are created on the jobsite.  Jobsite conditions such as weather, construction variables, products, and installers all create a level of variables, which must be controlled, overcome and addressed for a successful installation.  Although there are multiple training facilities and a variety of weekend seminars available, nothing beats having 'real' on the job experience. Having overcome obstacles and solved real issues on the jobsite is something that cannot be taught in a weekend.  Here are some tips to get a feel for your installer's experience and knowledge:
"The proof is in the pudding" Ask for a portfolio of jobs and a list of previously installed systems.
Make sure they have completed jobs of similar scope and size.
Visit the jobs they have installed and then ask the installer any questions or concerns you may have.
Ask for a list of customer referrals.
Ask questions you know the answer to, and see if they have the right answer.
See how long they have been in business. (remember this is still a new industry and extensive years in business will be difficult to find.)
Traits amongst experienced professionals:
They will:
Understanding the systems and be able to explain them in Layman's terms.
Be able to educate the customer
Provide a quality of service representative of their years in business
Be able to explain and have in place quality controls
Not use your job as a testing ground to learn new systems or procedures without your knowledge.
Have a Professional Business Identity – Up to date with local licenses and insurances
Have a well trained staff
Be able to fix problems and avoid most disasters
Be able to bid a project, including all necessary costs the first time.
Stand by their work – warranty
Use the best systems, and stay up to date with new technologies in the industry
Be able to provide a variety of options for their customer
Be advertising and have a Web presence.
Be easy to reach and get a hold of.