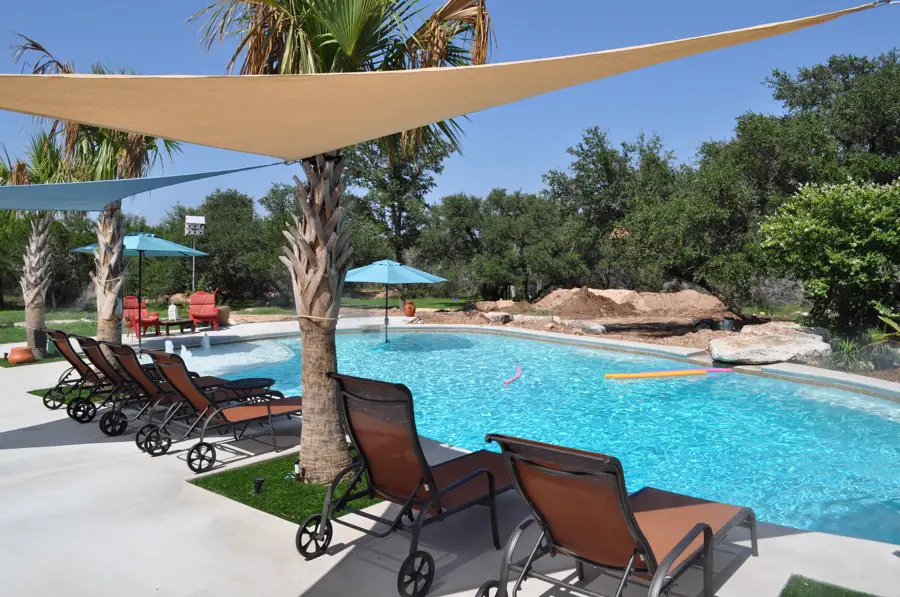 Creative Concrete Pool Decking Options
One of the simplest solutions for providing stability around the swimming pool is to use concrete pool decking. It can be fully customized to match the existing decor of the pool and the surrounding area. Concrete can withstand all types of weather, and extensive wear and tear. In addition, it can offer a non-slip surface to minimize injury and accidents. Sealing and painting the concrete pool decking is not difficult at all, and with proper maintenance, can last many years with minimal care.
In recent years, concrete pool decking has become a popular trend over other materials. It offers an inviting atmosphere in the area that surrounds the pool, allowing individuals to sunbathe or entertain.
Concrete pool decking has many options with the availability of staining, dying, coloring, resurfacing, polishing, stamping, and embellishing the surface with inlays. It works is the ideal solution for providing the right types of esthetics to maximize the exterior decor of a home or commercial structure. It can mimic a variety of other natural products including slate, flagstone, granite, marble and others.
Concrete Overlay
Many homes and commercial properties have existing pool decking that might be unsightly or unattractive. Concrete overlays can serve as the ideal solution for transforming that flooring surface. In addition, traditional concrete can be quickly transformed from its gray and boring color to something more stylish in design. By installing a micro-topping overlay formulated out of a hardened polymer, the pool deck can be easily resurfaced and quickly transformed into nearly any design, shape or style.
Functional Walkways
Creative concrete artisans can also incorporate functional walkways that blend in well with the existing pool decking. They can help maximize traffic patterns when moving through the yard. In addition, functional walkways can attach other areas of the yard including garden areas or seating areas.
Decorative Options
Because the newly poured concrete or newly re-surfaced concrete can be stamped or patterned, it is offered in a variety of imprint options. A creative concrete artisan can redesign the surface of the concrete to resemble slate, brick, stone, flagstone, wood or tile. In addition, it can mimic seashells, cobblestones, bricks, pavers and more. The surface of the newly poured concrete can be colored or patterned in a variety of options. In addition, the pool decking can be finished with exposed aggregate, or acid etched staining.
A Durable Surface
Using concrete for pool decking is an ideal solution for providing a durable surface. It holds up much better than a wooden deck, or concrete pavers. It far surpasses laid stone or flagstone, and can be installed at a fraction of the price of other available materials. Because it is a poured product, it is extremely flexible in nearly every application and can be installed in a variety of sizes and designs.
Some homeowners and business owners incorporate different materials with etched, stamped or colored concrete. This includes wood, stone, granite, marble and others.