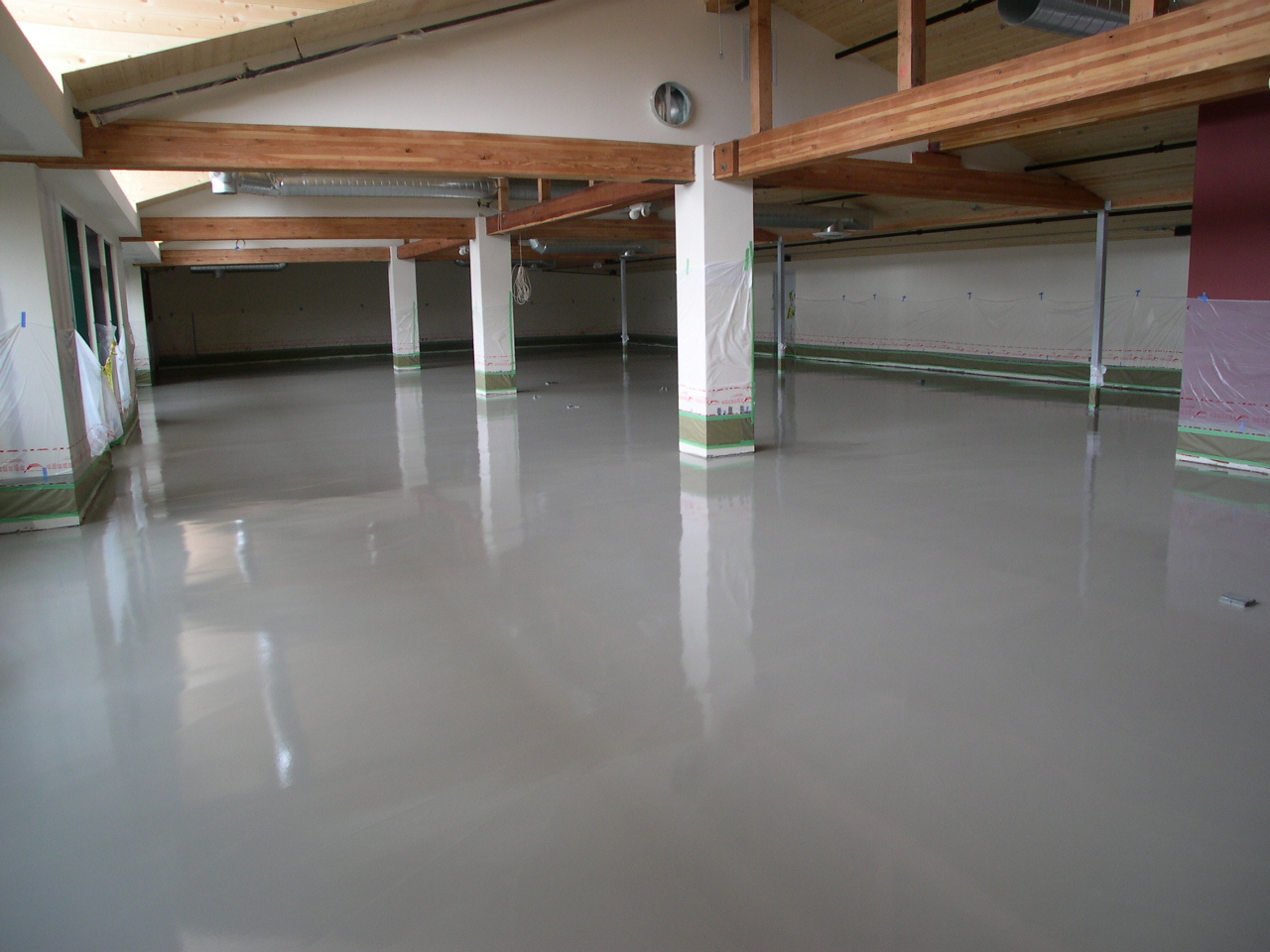 Interior Architectural Concrete Floor Care Procedures
Concrete floors are tough and durable but are not impervious to wear and tear. General maintenance should be done and care should be taken to ensure your investment looks and performs great for many years.
*Please Note: The maintenance instructions below are intended for reference purposes only. Always test a small area to ensure your products and systems are compatible with the installed Decorative concrete system. Ensure all sealers and coatings are fully cured before the application of any maintenance products.
Daily Maintenance:
1. Wipe Up spills immediately using a damp cloth.
2. Dust mop regularly to maintain dust-free, slip-resistant surface.
3. Using a neutral cleaner, clean floor with mop/bucket/wringer and / or auto scrubber and pad. Dilute cleaner to manufactures recommendations,
4. If necessary, gently remove any remaining marks with blue utility pad.
5. Using mop, clean along edges and around stationary objects machine did not reach.
6. Chewing gum will often release during normal cleaning. If not, lift off (DON'T SCRAPE) immediately after cleaning.
Periodic Maintenance / Re-Coat:
1. Follow steps 1 – 6 as in daily maintenance
2. Applying Floor Finish
a. Wring mop/applicator out until it does not drip
b. Apply along edges and baseboards with a light coat.
c. Finish the area with figure 8 overlapping strokes of the mop / applicator or as per floor finish manufactures recommendations.
d. Allow dry time on manufactures recommendations.
e. Second coat should be applied perpendicular to previous stroke.
f. Allow ample time for drying before opening area to traffic.
Periodic / Re-Coating Frequency Recommendation:
High Traffic Areas: Every 4-5 weeks
Moderate Traffic Areas: Quarterly
Low Traffic and/or Edges: Semi-Annually
Commercial – Initial Start Up to maintain protection of 3-4 coats over top of sealer
Residential – Initial Start Up to maintain protection of 2-3 coats over top of sealer
Products:
1. Floor Finish – Acrylic or Urethane floor finish – as per local availability and approved test area. These types of floor finish are easy to apply, do not yellow and are resistant to detergent scrubbing, black heel marks and scuffing. Available through Home Depot or a local Janitorial supply company.
2. Neutral Cleaner as recommended by floor maintenance firm.
Highly -concentrated neutral detergent that is safe to use on all water-resistant flooring. Low-foaming, heavy-duty cleaning formulation is perfect for automatic scrubbers. Ideal for mop and bucket applications without leaving behind residual film or streaks when used at the recommended dilution ratio.
CLEANING METHODS: *
Do not use:
High Pressure washer equipment
Floor Pads; Green, brown, or black
Nylo-Grit or Strata-Grit rotary brushes
High-alkaline cleaners, degreasers or strippers
OBJECTS: *
DO NOT USE:
Chairs, tables, trash receptacles, sand urns, benches, metal stands, hard plastic chair rollers, etc. with bottom surfaces or payloads that may scratch the floor. It is standard that a plastic mat or carpet be placed on the floor when using rolling chairs, furniture or items of this nature.
Tape: Do not affix any type of tape directly onto the surface of the floor as the adhesive in the tape may re-emulsify the sealer and cause markings or damage.
FLOOR PROTECTION:
Use walk off mats is recommended in entrance ways.
Use felt pads on furniture bases. (e.g. Chairs need rubber and/or material padding around bottom edges for protection. Table legs need rubber stoppers and/or another material to prevent sliding.)
If gouging or other damage occurs, spot retouch over clean surface with original sealer formulation to prevent dirt and contamination from passing through to the substrate. If retouching is required, contact your Approved Installer.
It is recommended that these maintenance instructions be implemented immediately following the removal of any protection put over the decorative concrete system and/or prior to any type of traffic on the floor once the system is installed. (If there is no protection)
*These cleaning methods and objects may damage the Decorative Concrete Flooring Systems.
Failure to follow the above maintenance instructions will void your warranty for the system installed. Each floor system and amount of traffic may vary with each application. Please follow the maintenance specifications made available through the installer. Always test a small area before any maintenance procedures and follow all manufacturers' instructions. Keep records of all floor maintenance schedules to maintain warranties, and guarantees. The maintenance of the floor is the sole responsibility of the owner unless otherwise agreed to upon a written contract.