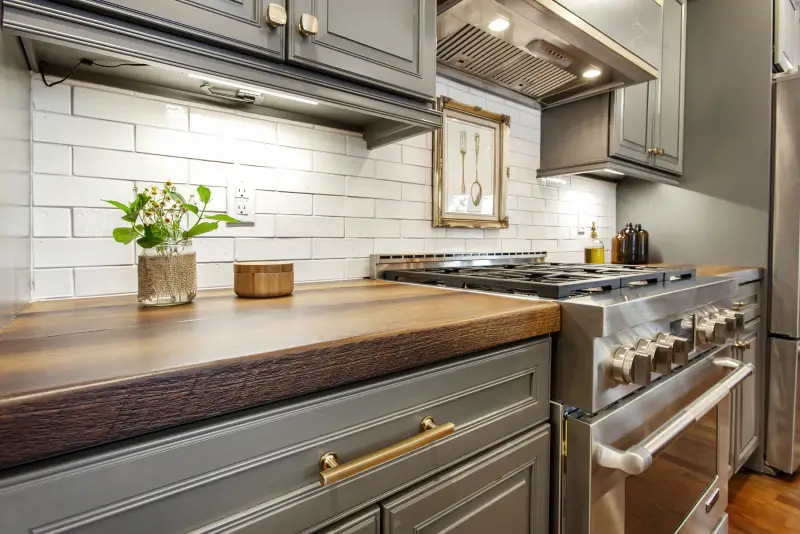 NOTE: When working with concrete and sealants, always work in a well-ventilated space.
What you will need:
Sander
Primer
Brown paint in 3 different shades
Paint roller with a paint tray
Paint brushes
Graining tool
Graining comb
Cotton swab
Step 1 – Lightly sand your concrete surface to remove particles or debris. This will create a smoother surface on which to paint.
Step 2 – Clean the concrete thoroughly and allow to dry completely.
Step 3 – Prime the concrete surface to seal it. This will create a smoother, less porous surface to work with.
Step 4 – Using the lightest shade of brown, paint the whole concrete surface. This will be your base coat and it will need to be totally dry before moving on to the next step.
Step 5 – With a small paint brush or roller, paint the concrete the next shade of brown. Strokes should all be in the same direction. Use the graining tool, rocking it back and forth, and drag it along the damp paint. This will create the look of wood.
Step 6 – Repeat this process until the desired look of texture (wood grain) is achieved. If you want a grainer look, use the darkest shade of brown and scatter paint in small areas. For reference you might want to print out a close-up photo of a plank of wood and try to emulate what you see. Remember to always paint in the same direction because strokes going in opposite directions will look fake. Use the graining comb to add additional lines in the paint. This will add more dimension to the surface. Use the cotton swab dipped in dark brown paint to create "knots."
Step 7 – After you have allowed the surface to dry for 24 hours, use the paint roller to apply a clear sealant. If you want a glossy look, use a high-shine sealer, but for a more realistic, woodlike appearance, use a dull sealant.