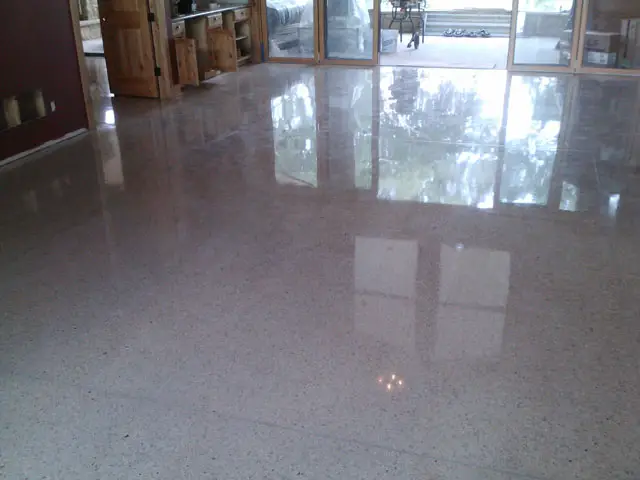 Overview
Also referred to as: Honed, Burnished, Ground or Diamond, polished concrete generally refers to a concrete surface that provides a hardwearing, durable finish with a surface luster or shine. Polished concrete finishes have been used primarily in industrial buildings, manufacturing plants and warehouses, but are increasingly becoming more popular in residential and retail or commercial buildings. In the past polished concrete has been grey, but today it is increasingly being seen in a wide range of colors. By using integral color and surface colorants including dry shake hardeners, dyes and or staining, designers now have many options to choose from.
Ways Polished Concrete Contractors Achieve a Polished Concrete Finish

Polishing during the placing and finishing of the concrete:
Polished concrete can be achieved by overworking or 'burnishing' newly placed concrete. By nature of the process, over troweling and working the concrete, densifies and darkens the surface and is best achieved with multiple passes with a power trowel.
Polishing concrete with liquid polishing materials:
Polishing concrete can also be achieved by using resin burnishing floor waxes, liquid polishing materials or resin-based coating applications to a previously smooth finished surface. These are generally multi-layer applications that, after the recommended concrete curing period, are burnished using polishing equipment. The polishing action produces friction, the heat from which melds the layers and induces the bond to the concrete surface. The degree of shine achieved is dependent on the quality of the concrete (particularly the surface density), the quality of the particular product and the burnishing technique.
Using Industrial grade Diamonds for polishing:
Diamond polishing using large walk behind floor grinding and polishing equipment can be used to grind or polish existing or freshly cured concrete surfaces. Diamond polishing uses progressively finer industrial grade diamond impregnated pads, disks or wheels which can take a dull concrete surface and 'polish' it to create an extreme shine and luster without necessarily using any chemicals or sealants. This process is similar to smoothing out wood with sand paper but uses diamonds with concrete.
During the process of Diamond polishing it is becoming more and more popular to add a surface densifier or hardener that increases the stain resistance, density and overall performance of the polished concrete surface.