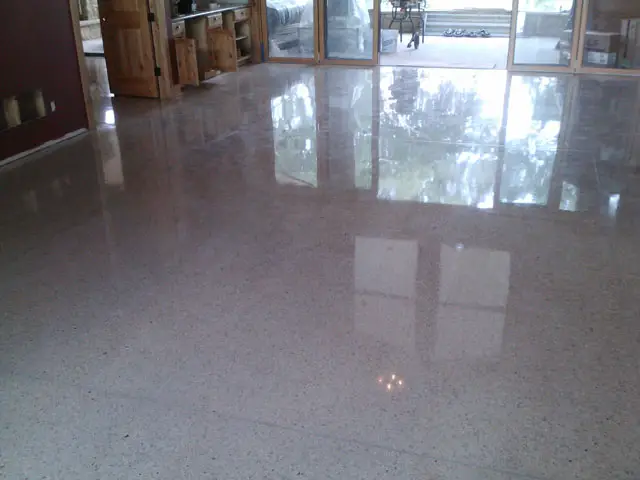 Concrete has come a long way with homeowners in recent years, providing a decorative touch in high end homes never possible before. Today's concrete surfaces can be tinted, stained, stamped and stenciled. In some cases, concrete is buffed to a high gloss finish that rivals marble flooring and granite countertops. Polished concrete is easy to clean and hold up remarkably well to even the heaviest traffic. There is no need to use slippery waxes or other chemicals on the floor to help it retain its shine. This article will delve into the basics of polishing concrete, so you can decide if this technique is the right choice for your concrete project.
Is Polish a Good Choice?
Most concrete floors will respond well to polishing processes. However if your concrete surface is new, it is best to wait four weeks or so to make sure the concrete is completely cured before beginning the polishing process. Some older floors might be too damaged or structurally unsound to polish. If you are in doubt, ask a concrete contractor if your floor would polish well. In most cases, an older floor will need to be prepared with a thorough cleaning and necessary repairs before the polishing process can begin.
Polishing Methods
There are two methods typically used for polishing concrete; a wet method and a dry one. Many contractors will use a combination of these two for best results. A dry polishing will often be done first, which uses a machine equipped to catch the dust as the grinder works. Once the dry polishing is complete, the wet method may be used to eliminate dust and lubricate the floors. The disadvantage to the wet method is that it is usually messier, so your contractor will need time to clean up after the job is complete.
Enhancing the Polishing Process
Concrete polishing is often combined with other techniques for a customized look on the concrete surface. You can choose to have your concrete surface stained prior to the polishing or have an exposed aggregate worked into the surface. After the polishing process is complete, your concrete surface will be buffed to a high shine, allowing your other decorative touches to shine through. In many cases, polished decorative concrete can rival other high end flooring like tile or marble, but with less maintenance required.
Maintaining Polished Concrete
This may well be the best part of a polished concrete finish. Unlike other polished surfaces that require regular application of wax or other substances to maintain the shine, polished concrete needs very little maintenance aside from basic cleanup to remove dirt and debris. A polished concrete floor may last up to 15 years before the polishing process needs to be repeated, making this flooring an excellent value for the money.
Polishing concrete is a job that is best done by professionals who are experienced with the process and have the correct tools to get the job done right. Polished concrete provides a luxurious look to residential and commercial spaces with little maintenance required.