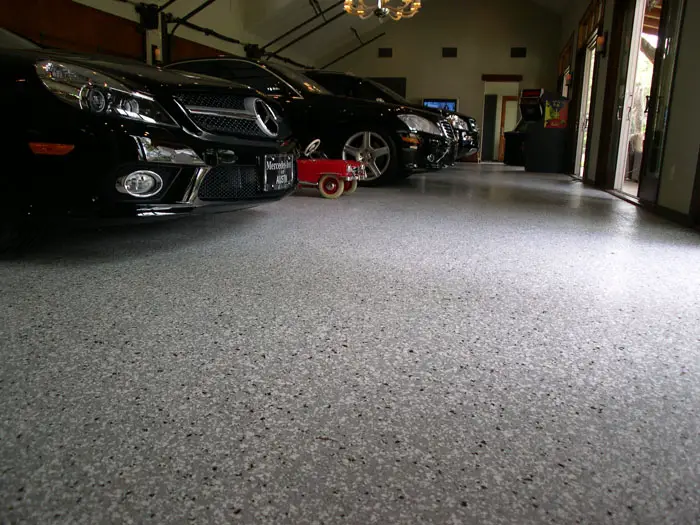 If you are seeking an old world look or a contemporary style when it comes to the flooring in your home, terrazzo flooring may be the answer.  Original terrazzo was made in Italy from marble remnants discarded by sculptors and masons hundreds of years ago.  Amazingly, the process of creating a terrazzo floor is pretty much the same today as it was in ancient times; mix cement with broken stones, marble, quartz or glass to create an interesting pattern.
Designing and installing a terrazzo floor it not a simple process.
Care must be given to properly prepare the floor (or sub-floor if necessary) to handle the weight of the cement and to prevent moisture from the cement from damaging the floor.
Once the cement is prepared the "materials" that make up the aggregate are added.  Often these chips are randomly placed throughout the floor.  However, it is possible to create a custom pattern such as a medallion, floral design etc. using the various aggregate materials.  This must all be done while the cement is still wet.
As with all cement floors, a terrazzo floor must be polished and sealed for protection and to achieve the desired appearance.
While the end result is a beautiful and custom floor, this is a labor intensive job that is best done by an experienced professional.
However, there are beautiful terrazzo tiles available today, making it possible to achieve this look in less time and for far less money.  The tiles mimic the look of "real" terrazzo, are lighter in weight, more affordable and can be installed easily.  If a real terrazzo floor chips you simply polish and reseal the area.  If a terrazzo tile chips it can not be repaired but can be replaced with another tile.  Therefore, it is important to purchase additional tiles for future use.
For those concerned about the environment, terrazzo can be considered an eco-friendly product.  While the cement mixture is not always considered "green", the materials that make up the aggregate can be.  Recycled glass and marble are often used and quartz and stone are natural materials.
Regardless of how you choose to install a terrazzo floor, custom or with tiles, you will have a beautiful and durable floor that will last for years to come.