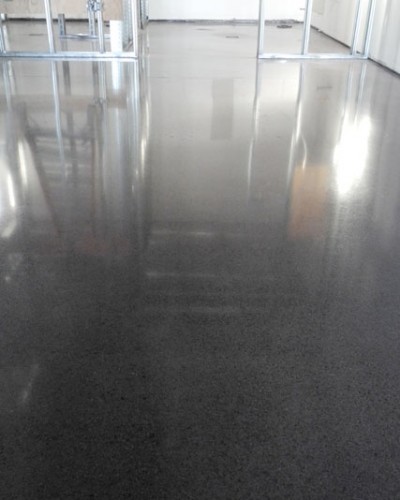 Modern Trends in Concrete Flooring
Forget the carpeting and ceramic tile; today's homes are all about concrete. When most of us think of concrete flooring, the garage comes to mind. However, modern trends in concrete flooring have made these foundations much too pretty for simply parking your car. With a plethora of colors and styles and a durability that can't be beat, it makes sense that concrete is moving to the top of the pack in flooring choices. Check out these five trends in concrete flooring that have taken the interior design world by storm.
Polished Concrete
A polished concrete floor can give the illusion of a highly waxed surface without the heavy labor or slipping hazard. Nearly any concrete surface can be buffed down to a high shine, including older floors that are in good condition. The look can become even more dramatic depending on the color of concrete that is used. This is a popular choice for office buildings where first impressions are essential.
Acid Stain Concrete
Acid stains are another concrete flooring treatment that can be used on existing concrete for a decorative touch. Acid stains consist of a solution of acid and water mixed with metallic salts that can be applied in a variety of colors. The effect is a natural looking color pattern with mottled shades of the same hue. This concrete flooring finish looks as classy in retail stores as it does in new homes, and it is ultra easy to maintain.
Scored Concrete
Scoring concrete flooring can add dimension to the flooring through geometric shapes and patterns. Scoring is done with the use of circular saws that make shallow cuts to the surface. The flooring can be done in a single color or multiple shades for a unique pattern. In some cases, the intricate patterns and bold colors provide the focal point for the room. Floors should be sealed after treatment to maintain their beauty over the long term.
Stamped Concrete
Stamped concrete is a particularly popular trend in patios, but it can have a dramatic effect on interior floors as well. Stamping concrete involves using a tool on fresh concrete to provide a textured appearance. A stamped concrete floor can resemble tile, brick or even wood grain. Contractors can also use stencils to provide an even greater variation of designs. This effect is generally used with a single color so the pattern can stand on its own. By combining different colors and patterns, your choices are nearly limitless.
Concrete Overlays
One of the easiest and least expensive ways of jazzing up an existing concrete floor is through the use of polymer coatings or overlays. This technique involves pouring a layer of tinted polymer over the existing floor to add color and design. This process should only be used on concrete flooring that is structurally sound and in good condition.
Concrete flooring provides a wealth of options to spruce up your home indoors and out. With many bold styles and colors and relatively low maintenance, it is no wonder concrete flooring has become the trend of today.