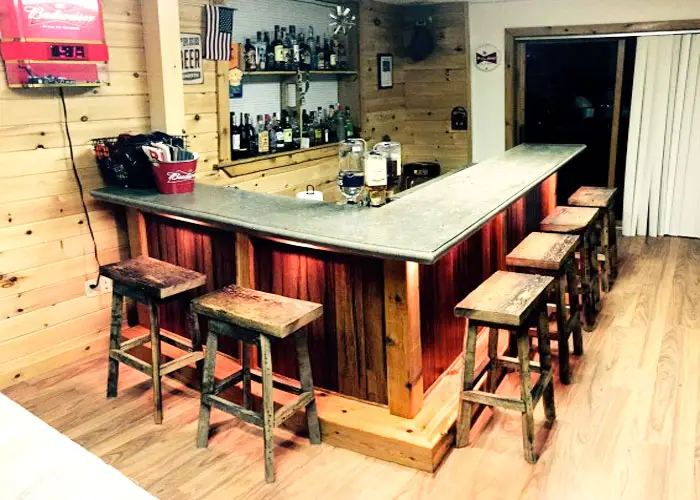 Customized Ideas for Creating Beautiful Concrete Countertops
There is a plethora of customized ideas when installing concrete countertops in a home, office or commercial property. Many owners choose to install concrete countertops in bathrooms, kitchens, indoor bars, or outdoor eating areas. It offers a durable an aesthetically pleasing solution that is the ideal option for new construction, or a fresh remodel.
Creative Ideas
There are a variety of customized ideas that can make every countertop unique. Some of these custom ideas include:
White Cabinets with Black Concrete Countertops – Consider installing white cabinets with a black concrete countertop that is either "field fabricated" (poured on-site), or one that is precast in a shop. When blended with steel pull bars and white subway tiles, the colors can complement the style.
Sink Inlays – Consider going green by using a concrete sink inlay blended in with the concrete countertop. By formulating silica fume with fly ash and cement, all of these industrial waste byproducts can make the property owner carbon neutral while adding an aesthetically pleasing design to a kitchen or bathroom area.
Chiseled Edges – A concrete countertop artisan can create a chiseled edge that mimics natural chiseled stone. The process is performed while the material is still wet. It works as an ideal solution for creating a countertop with a rough edge that can be used in an indoor kitchen, or an outdoor bar.
Drainage Boards, Cutting Boards and Trivets – Consider having the concrete countertop fabricator incorporate drainage boards, trivets or cutting boards into the countertop. The drainage boards can be created in any shape or design that will naturally drain into a sink mounted under the countertop. An opening can be crafted to hold a cutting board in place, fabricated out of a variety of materials including natural woods and bamboo. Additionally, holes can be drilled for trivets.
Granite Looking Countertops – With all the acid stains and dyes available, artisans can create beautiful countertop designs that mimic the look of natural stone, including granite and marble.
Outdoor Solutions – When installing an outdoor kitchen, consider using fabricated concrete countertops that are either pre-cast in a shop, or poured on-site. They are available in a variety of thicknesses, styles, shapes, colors and designs. They can incorporate a variety of styles to include built-in drainage boards to an under counter mounted sink.
Polished Surfaces – Not only does a polished surface of a concrete countertop work well in the kitchen, but in the bathroom as well. It is the ideal solution for mounting an under countertop sink. Consider using it to hold a built-in Jacuzzi or bathtub.
Blending with Other Hard Materials – Polished or unpolished concrete works when blended with other hard materials. Consider using concrete countertops up against exposed brick or slump block. In addition, a concrete countertop on a concrete cabinet fits in well when blended with concrete, tile, terra-cotta, or other hard flooring surface.
The design, fabrication and installation process of a concrete countertop is certainly never as complicated as most believe. With the right materials, high-quality tools, and finishing products, anyone can create an aesthetically pleasing countertop for the home, office or commercial property.