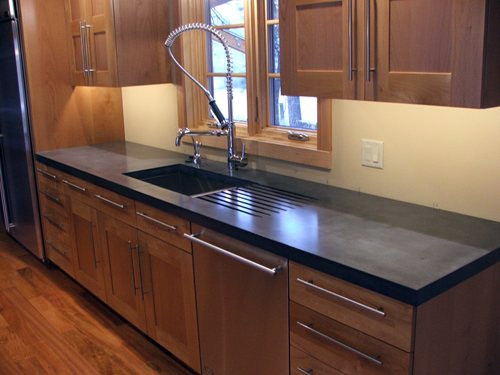 GFRC or Glass-fiber reinforced concrete
In a nutshell, GFRC is a super strong concrete that has been infused with a glass fiber composite that makes the end product stronger, and gives it more flexural strength. It reinforces the concrete while dramatically increasing its load-bearing capacity over a typical concrete mix.
When used correctly GFRC can produce very lightweight, durable concrete pieces that can be used to create countertops, tabletops, fireplace surrounds and accessories as thin as 3/4 inch.
GFRC or Glass-fiber reinforced concrete is handled and shaped similar to that of a standard cement mix. In the design phases custom edging or other treatments can be cast separately and integrated seamlessly. With a relatively lightweight product, these strong countertops can be shipped anywhere in the United States.
A major difference between GFRC and traditional concrete is that GFRC allows for limitless creative and design opportunities.
Concrete as a countertop or design element allows for the customer to include personal or even, landscape elements from their property into the design of the piece. Examples that have been done include, fern leaves and tree branches to stones and animal prints. To finish the design all details are hand painted, with rollers and sponges to intricate brushwork for the final touches.
GFRC technology is environmentally friendly and is a nice way to help live green without sacrificing decor. By using concrete as a building material it is a great way to use up recycled waste for example the glass fiber elements are from reclaimed or recycled materials, and the cement mix can include fly ash (the waste bi-produced of industrial smokestacks.) The finishes are ecologically friendly water-based materials that give off no pollutants or toxins when produced and can make you feel good all around.