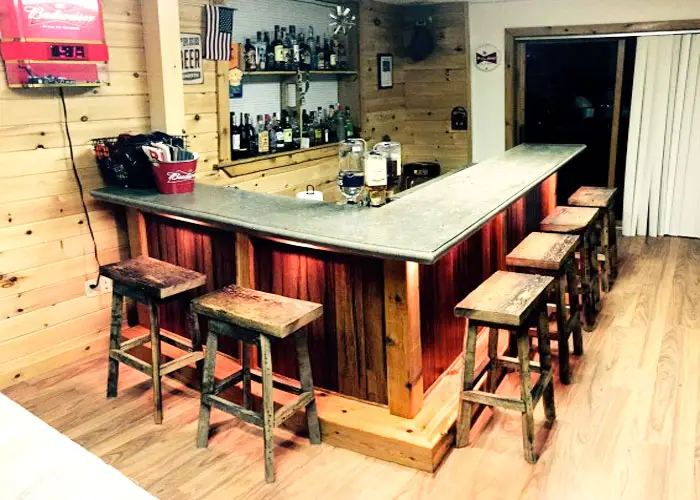 Functional Concrete Countertops Allow for Personalized Design
Concrete continues to be the ideal solution for homeowners, business owners and designers across the US in creating countertops that are aesthetically pleasing and functional in design. The decorative functional features of concrete countertops are used extensively in homes, trendy restaurants, offices and retail stores everywhere.
The durability and versatility of concrete makes it an ideal solution for molding the material into a variety of shapes and designs. It can be colorized with a variety of textures ranging from rough to smooth. It can mimic any style or architectural design from classic traditional to modern contemporary.
Functional Options
There are a variety of functional options that can be added to a decorative concrete countertop to enhance its beauty. This includes the addition of sinks, trivets, or a drain board. It can be molded to accept an oven range insert or an under counter mounted sink. Many components can be incorporated into the design such as functional drawers and shelves. The functional available options that can be blended into concrete countertop are limited only by the artisan's imagination. 
Durability
Both the weight and thickness of the fabricating concrete countertop will determine its durability and strength. Traditionally, functional concrete countertops are poured in an average of 1.5" thickness. This means that one square foot typically weighs just over 18 pounds. Lightweight concrete can be used in place of standard concrete, although it might decrease its durability. Even though 18 pounds per square foot is high, when compared to other countertop materials, standard cabinetry is designed to support the sizable concrete slab because the weight is evenly distributed over the entire area.
The standard thickness of a concrete countertop slab is generally 1.5". However, many fabricators produce concrete slabs that are 2" and thicker. While a thicker countertop will increase the durability slightly, the fabricator usually selects this depth for aesthetic reasons.
Functional concrete countertops that are made under controlled conditions in a fabrication shop tend to be stronger and more durable than those that are created on site, or cast in place. This is because the curing process can be controlled with an indoor temperature of approximately 70°F to 80°F. Additionally, reinforcing the concrete slab using structural steel, fiberglass, wire mesh or fibers can significantly enhance its durability.
Distinction and Elegance
One of the major components to creating a functional concrete countertop is the ability to use artistic design. It is easy for the artisan to create a high-level distinction, elegance, or creativity in the approach to manufacturing a decorative functional concrete countertop. This is because every piece is unique, and made-to-order. In fact, many structure owners become a part of the artisan's creative process in designing the ideal solution in a functional concrete countertop.
There is an irresistible appeal to using concrete when designing a functional countertop. With superior craftsmanship, its own natural qualities, a level of distinction, and versatility, it offers an aesthetically pleasing solution over a traditional countertop.