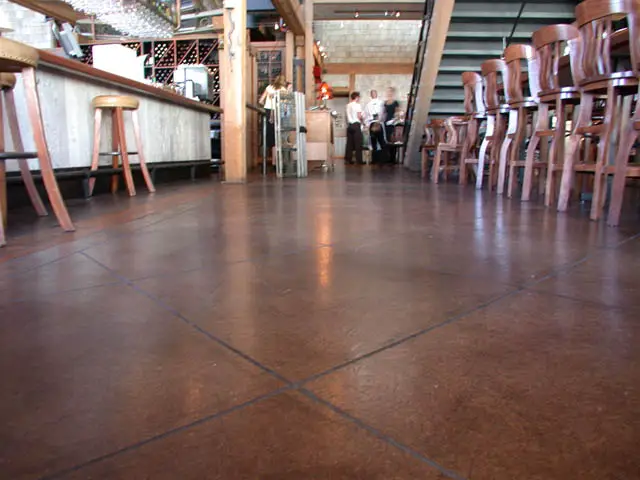 Acid Based Stains
Decorative concrete is growing very popular for many types of surfaces.  Stamped, colored or inlaid concrete can provide a unique perspective for a boring area of driveway or patio.
However, these techniques all require laying new concrete, either from scratch or a new layer. If you are stuck with a bland piece of concrete and want to add some visual interest with color, you may want to consider an acid based concrete stain. These come in a wide range of colors, and when properly installed and maintained, last for a very long time, even when exposed to the weather.
What are acid based concrete stains?
Acid stains are not simply paints that are brushed onto concrete. Instead, they actually penetrate the concrete surface and react chemically with the cement. This creates a finish that does not flake, and thus, lasts as long as the concrete itself. Acid based concrete stains can be used to create a variety of looks, from deep, solid colors to mottled stains that look like marble or natural aging.
Acid stains have been used for decades, but until recently were mostly used in commercial buildings and spaces. As people have searched for decorative options at home, acid stained concrete has become very popular in residential applications. They are transparent stains that can be applied in multiple layers to achieve the desired look.
Natural variations are normal with acid based concrete stains due to variations in the surface of the concrete, as well as small cracks or seams that may become more apparent with the stain. These are generally known as advantages of acid stains, as they create a unique look.
How to apply acid stains
It is important to properly prepare the concrete surface prior to applying an acid based concrete stain. Foreign materials will show up on the surface if not cleaned, including old stains which may look discolored. If you are staining new concrete, make sure it has properly dried. The general rule of thumb is to wait a month or two, though that may vary in some climates. Try to remove all stains and dirt thoroughly. If the surface has been sealed or painted, you should strip it prior to staining. Also, if you are staining a smooth flat surface, such as a garage or indoor floor, lightly sand the entire surface to allow the acid stain to fully penetrate.
Acid stain should be diluted according to the manufacturer's instructions. It can be applied using a pump sprayer or by hand using a brush. Since it gets darker the more layers that are applied, it is important to avoid overlapping layers of stain. A circular motion is the easiest way to ensure even coverage. You want to work quickly and steadily. Allow the stain to dry prior to applying additional coats, generally 4-6 hours. Once you have achieved your vision, allow the surface to thoroughly dry for at least 12 hours, and then apply a sealant to preserve the surface.
Acid staining offers multiple design options. You can score the concrete to create patterns, and then use different colors of stain for a unique look. There are many other techniques available for creating a design that will best suit your needs.