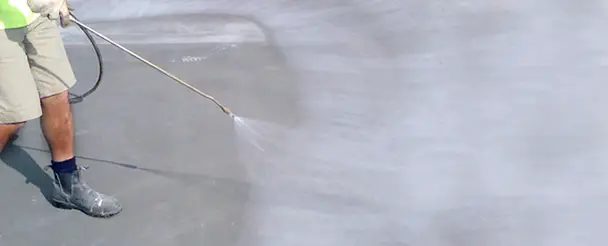 CURING 
The term "curing" describes the process in which hydraulic cement matures and develops the hardened properties of the concrete. The rate of evaporation greatly affects how well curing takes place. The rate of evaporation depends on the environment surrounding the concrete and the measures taken to limit the loss of hydration water and heat.
The use of evaporation retardants can be extremely effective in decorative concrete applications. Even when the weather conditions are ideal for concrete placement, the inherent nature of coloring and antiquing of decorative concrete can delay standard curing methods. Every extra step that can be done should to insure the concrete has maximum protection during the early stages of hydration.
Evaporation retardants slow moisture loss and should NEVER be worked into the fresh concrete if labels say finishing aid be sure and call the manufacturer to insure the material will be properly used.
Protection on bright sunny days is also critical to the decorative concrete especially when colors are involved careful placement and cure methods are vital on these days, when pouring against buildings or walls they may reflect heat and sunlight onto the slab therefore affecting the look of the colored concrete.
Proper curing allows the concrete to hydrate and slows early moisture loss.  The curing period is defined from the beginning of placement to until the desired properties of the concrete have been achieved.  Concrete that is well cured will darken the look of the concrete while poorly cured or un-cured concrete can result in an uneven look.
When curing concrete it is important to remember that some methods used have been misinterpreted. Although decorative concrete practices have been used for many years, proper curing has been avoided and the difference between curing and sealing has been misunderstood. Both liquid release agents and evaporation retardants do not qualify as concrete cures but have been used so in the past.
Every effort should be made to cure decorative concrete as soon as possible. Curing should take place immediately after finishing when no damage will be done to the concrete surface. Curing too soon, (which happens often on grey concrete) can alter the appearance of the decorative concrete.
Many membrane cures that are sprayed on too quickly can slightly damage the surface sometimes giving the look of raindrops. Membrane cures are usually used with decorative concrete since appearance is usually of the utmost importance. The membrane cure should be carefully chosen before placement to insure the proper cures are used and must be applied properly. Even application of internal and external curing must take place to reduce the risk of damage (including light and dark spots) to the concrete surface.  Be sure that no visible damage will be done to the concrete surface when membrane cures are applied. With decorative applications, normal cure practices will be delayed for a time depending on what method is used.
Who should know when curing needs to begin:
¨        Owner
¨        Architect
¨        Testing firm
¨        General contractor
¨        Concrete contractor
¨        Engineer
¨        Ready mix supplier
¨        Sub-contractor (who may apply stains, dyes or polishes floors)
¨        Any sub-contractor who will be on the concrete in the first 72 hours
Care must be taken for floors or other concrete slabs that will later receive decorative toppings such as:
¨        Stains or dyes
¨        Micro toppings or stamped overlayments
¨        Polished concrete
¨        Epoxy urethane or special types of sealed floors
When such floors are specified, pre-job checklists should be provided and a pre-job conference should address such issues before construction begins.  Open commutation between contractors and suppliers will result in a successful, durable concrete slab.
Attendance at pre-job meetings should be by all parties involved including:
¨        Color suppliers
¨        Curing supplier
¨        Ready mix supplier
¨        Testing lab