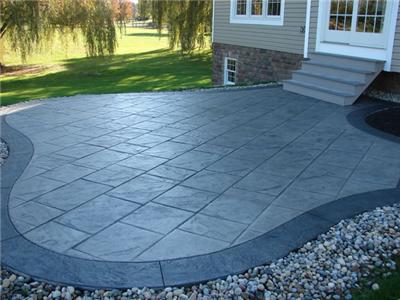 Are you looking for a hardscape to add to your outdoor living space? Consider concrete. We are not referring to the plain grey cement that graces many sidewalks and driveways. Today's concrete is all about adding color and design for a high end look at a budget price. If a new patio is in your future, consider these five advantages to choosing stamped concrete for your patio project.
Color
Concrete comes in a rainbow of colors today, so you can find the hue that will tie in best to the exterior of your home and the rest of your landscape. You have a choice of choosing a dye that is mixed into the concrete before pouring the patio. These shades are generally more muted, but the end result is quite dramatic. You can also opt for a dry shake-on method that is worked into the top layer of concrete before the stamping is done. This method gives you much more vibrant hues and can be combined with the former process for a nice pattern on the concrete surface.
Shape
Because concrete is an amazingly versatile substance, you can create just about any shape you please with your stamped concrete patio. Want curves? No problem. How about a planting area in the middle of your patio surface? Easy enough. There is simply no other surface that will give you the plethora of design options that concrete can. Simply build the pattern to your specifications and pour. Beautiful.
Designs
Most concrete contractors will offer a selection of 10 to 12 stamping designs for a patio. There are many more than that available through other companies. This means you can choose a patio with the look of stone, brick or tile all for the price of a single patio. Stamped concrete patio designs can run the gamut from a sleek, contemporary style, to a traditional look that fits perfectly with a cottage garden landscape.
Maintenance
Unlike a redwood deck that must be refinished and sealed every year, a stamped concrete patio needs very little maintenance to retain its beautiful appearance. Washing off the surface with a garden hose and applying a new coat of sealant every two or three years will keep your hardscape in top condition. You can enjoy your outdoor living space with the knowledge that your stamped concrete patio is designed for a lifetime of use.
Cost
Stamped concrete patios do have a broad range of prices, depending on the style and size of the patio you choose. However, concrete is a relatively low-cost option to other types of outdoor living spaces like redwood or Trex decking. When you combine the installation costs with the low maintenance needs, you can see that you will get plenty of value for the dollar from your stamped concrete patio.
A stamped concrete patio can be a lovely addition to any outdoor living space today. With a wide range of options, low maintenance and the best value for your landscaping dollar, it is no wonder these patios have become a mainstay in many homes today.