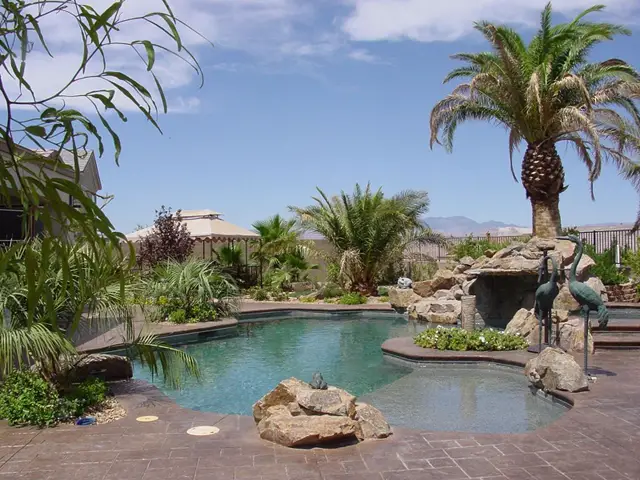 Decorative concrete has grown in popularity and become the standard when it comes to pool deck design and pool surround makeovers.
For new construction projects, integrally colored concrete is a very popular method used when pouring a foundation for a new pool surround. The color is added into the mix when placed. A wide variety of finishes can be applied on the surface of the setting concrete to create a cool pool surround!
These include:
Basic broom finishes, rock salt finish,(where salt is broadcast, left to set, and then swept off when the concrete is cured) stamped or textured finishes using imprinting materials or stamp mats, and growing in popularity; stenciled concrete. Similar to stamping tools, Stencils are designed to mimic tile, stone, or brick. A stencil is carefully placed on to the wet concrete surface and a color hardener is broadcast and troweled into the surface. Once the concrete sets, the stencil is peeled off, the area washed down, and sealed.
Reviving an old pool deck surround:
Pool surrounds that are old and worn are probably in need of some rehabilitation. People are now able to add some 'splash' to their dull pool decks by using Decorative Concrete Overlay Systems. Instead of having to tear out the existing pool deck and start from scratch, these systems create a new canvas on top of the old, worn pool deck surface. New technologies in Decorative Concrete allow people to rejuvenate their old or worn out pool decks and replace them with all types of textures, patterns, colors and cool pool deck designs.
Stamped Overlays and Stenciled Overlays offer a wide variety of looks for your pool deck that can mimic tile, cobble stone, stone or brick. Other thin overlay systems that are popular pool deck systems are Spray Deck and Kool Deck. Both of these pool deck systems are generic terms for a sprayed and troweled on cementitious coatings that bond well to existing cured concrete. Both pool deck systems are unique in texture and finish, and both offer skid resistant surfaces on the pool deck while staying relatively cool under the feet.
Just like a new concrete slab, other decorative techniques can then be done on top of the overlay systems to enhance the pool deck design including stenciling, hand carving, saw cutting, imprinting, or simply just adding color into or on to the surface of the overlay.
All of the techniques used for pool decks and pool surrounds can also be applied to exterior driveways, walkways, concrete patios and decks.