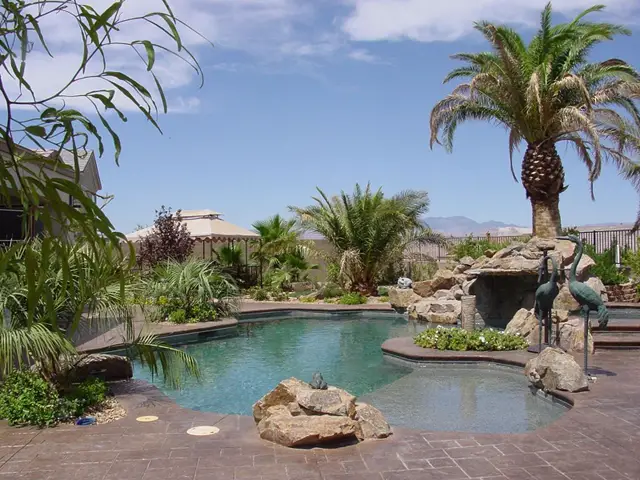 Your Options in Pool Coping Design
If you have a large backyard, or even a small one, installing a swimming pool will not only increase the value of the home, but also lends an added dimension to the ways you can entertain guests and your own family.
Nowadays swimming pool landscaping is very popular. In a landscaped swimming pool the design of the pool is not only limited to the shape of the pool. Designing a pool is also an investment in your decorative style.
Something as small as choosing the right pool coping can be a smart way to add texture to your pool design.
Pools have a lip about one foot deep that is the same material as the pool shell. Material used to finish the top edge of your pool is often called coping and runs around the top perimeter of a pool. Coping is used to accent a pool, defining its shape and look, while sometimes separating it from the decking.
Pool coping is the capstone for the beam, and is used to finish the pools edge and bring it up flush with the pool deck.
Pool coping can be divided into four main types. Rolled coping, cantilevered, bull-nosed and rough-cut.
Rolled edge coping is made from brick, concrete, or cast stone. It is smooth and upturned at the edge which can give a swimmer something to grab onto.
Cantilevered coping is straight on top, runs out past the edge of the pool then drops down a bit forming a 90 degree angle. It offers a modern look, and the L shape makes the deck material seem thicker than it actually is. The cantilever deck extends over the edge of the pool, and is free-floating
Bull-nosed coping is made from stone, cast-stone, or from cast-concrete edges. It is flat with a rounded end.
Rough-cut coping is good for giving the pool a casual look. It is made from rough stone and has a textured edge.
Coping varies by region and is available in a variety of options such as, poured in place concrete, pre-cast concrete, brick, natural stone, pavers, and even tile.
Concrete Coping:
The most common coping material is made of concrete. Pre-cast concrete coping with a bullnose front edge has been the standard for many years and modern designs are making use of this bullnose coping in many colors and textures.
The preformed and manufactured pieces arrive at the site and are set in place to create the edge of the pool. They butt up to, but do not touch the surrounding deck, leaving an expansion joint to deal with the changes in temperatures
Poured in place concrete will incorporate both the coping and the decking by pouring right over the edge of the pool creating a consistent finish with no obvious change of pattern or design at the pools edge. (Cantilever style)
Concrete coping is durable and versatile. It can be designed in many shapes, and then topped with a wide variety of finishes to create the exact look that you want.
Added customization and unique concrete pool coping options are now available by using Buddy Rhodes Concrete Products which offers concrete tiles in a pressed finish. This custom concrete pool edging is available in checkerboard tiles, the curved tiles, even spheres and shapes as in Fig.1 and 2. Many other design, colors and pattern options are also achievable.
The first thing that you need to do before buying any type of pool coping is to look at what is available.
Some owners choose to place their coping just around the edges, while others like a more widespread pattern in their pool or the continuous poured look.
By taking the time to look at various options, you will get a sense of what you might like and what might work for your personal pool design.