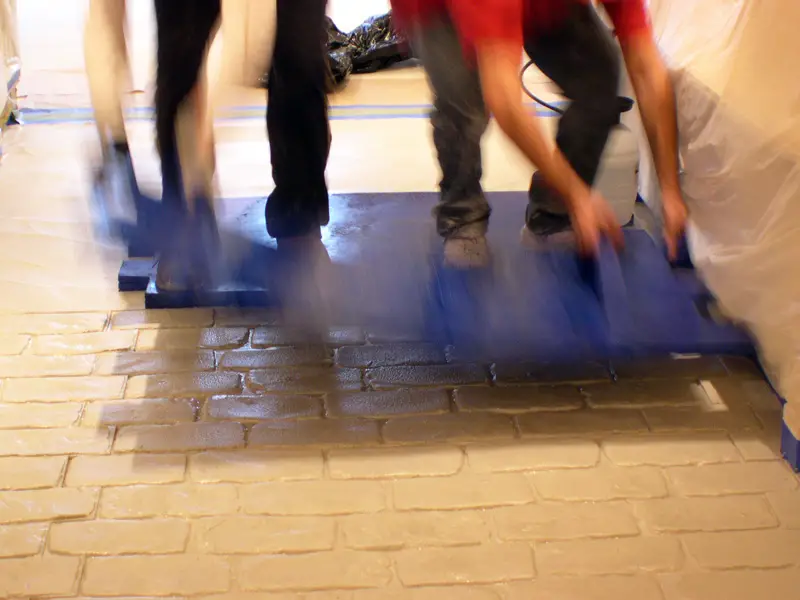 Do I have to jackhammer out my existing concrete?
NO!!!
Can you resurface my deteriorated concrete?
Concrete contractors are able to restore the surface of pitted, cracked and deteriorated concrete. Typical repair is 1/8″ thick over the entire surface and can be finished with a smooth troweled surface or a conventional broom finished texture. Above and beyond that, they can decorate the new layer any way imaginable!!! Slate, stone, tile patterns, etc…
What decorative options are available?
As you will find throughout the site, there is a a full range of decorative options including:
• Thin Stamped Overlays which create the authentic look and feel of stone, brick, tile, slate and more to nearly any existing concrete surface.
• Splatter textures that add an aesthetic color pattern and non-slip texture to nearly any existing concrete surface.
• Trowel down finishes offer a more natural look, while keeping the cost low.
• Acid stain options
What colors are available?
Just like an artist's palette, any color you can imagine.
Can you resurface old concrete too, or is it only for new poured concrete?
The concrete resurfacing process allows decorative concrete artisans to refinish both old and new concrete alike. One of the greatest benefits is the ability to take two pieces of concrete poured years apart (looking nothing like each other) and make them both beautifully and perfectly similar.
How long does it last?
Most products are manufactured to the highest standards in decorative overlays and you are ensured that the finish you receive will last a very long time. Every layer is 100% U.V. Resistant and will maintain it's color for 15 years if properly maintained. The layer of concrete added permanently bonds to your existing concrete and will not delaminate.
What is it made of?
Polymer modified cement is installed over your existing concrete at a depth of 1/8th to 1/2 it is a combination of polymers, cement, sand and other chemicals.
How strong is it?
Strong, Very Strong! Your surface will be stronger than the original concrete. Typical overlays cure at a strength of 4800 psi+. You could take a hammer to it. Whether you have fork lifts, tractor trailers or kids running across your new surface, it will be just fine. They even make industrial materials for commercial applications.
I have a crack through my concrete, can it be fixed?
Yes the crack can be repaired and filled and surface finish can be so that you will never know that there was a crack there in the first place!
How long does it take to refinish a concrete surface?
This is highly dependent on the individual job, but in general you can expect to be kept off your concrete surface from anywhere between 2 days on very small areas to 5- 7 days for large areas. Call your local contractor for more details.
Can these systems be used in commercial applications?
Yes! most resurfacing systems are continually used by an extremely wide range of commercial customers including Marriott Hotels, Harley-Davidson Dealerships, McDonalds, Amoco Gas Stations and many others.