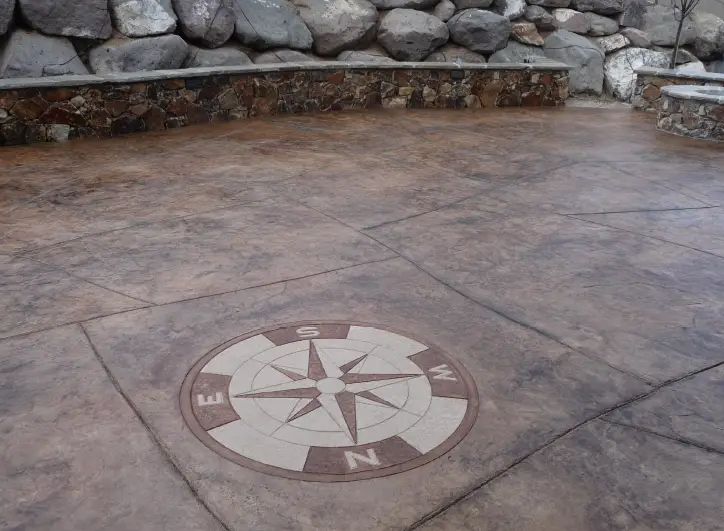 Once you have made the very wise decision to add a concrete floor to your home or business you will want to determine what type of design statement you are looking to make.  Should the floor represent your business through the use of your logo, or would sharp blocks of color in the floor design add punch to your family room?  There are many ways to personalize a concrete floor through the use of color, design and graphics.
Logos of your business, your favorite sports teams, even a family crest, will all provide that custom touch you are looking for.  These can be integrated into the floor when it is laid or added to an existing floor as an overlay.
Graphics add a pop of color and geometric interest to a large room.  A concrete floor with large stripes, blocks or borders done in the colors of the room is the perfect finish to a modern décor.  If your room is on the small side, consider a contrasting color border around the perimeter of the room to make it appear larger or, at the very least, add some interest.
Painting or stenciling a faux rug into the concrete is fun way to fool the eye.  You can visually warm the space with the "look" of a rug and avoid the need to vacuum or clean. This will also add some color and pattern to the room.
If you have a room dedicated to a specific purpose, such as a child's playroom, you can add lots of fun touches to your concrete floor.  How about a hopscotch game painted directly on the floor?  If there is enough room you can consider a mini basketball court for indoor play.  The alphabet stenciled onto the concrete as a border around the room is a great way for the kids to learn their ABC's.  You are only limited by your imagination in this room.
Adding color to a concrete floor will extend your color scheme and tie the room together.  A mottled gold is beautiful in a Tuscan inspired room.  A bright red floor will warm up a contemporary space decorated in black and white.  If your business logo incorporates certain colors, use these on the floor in your business.  What a great way to promote your corporate message!
It is a simple process to add color to concrete at the beginning of your project.  However, color can be added later through the use of stains and overlays if you want to change your décor or mask minor cracks and imperfections