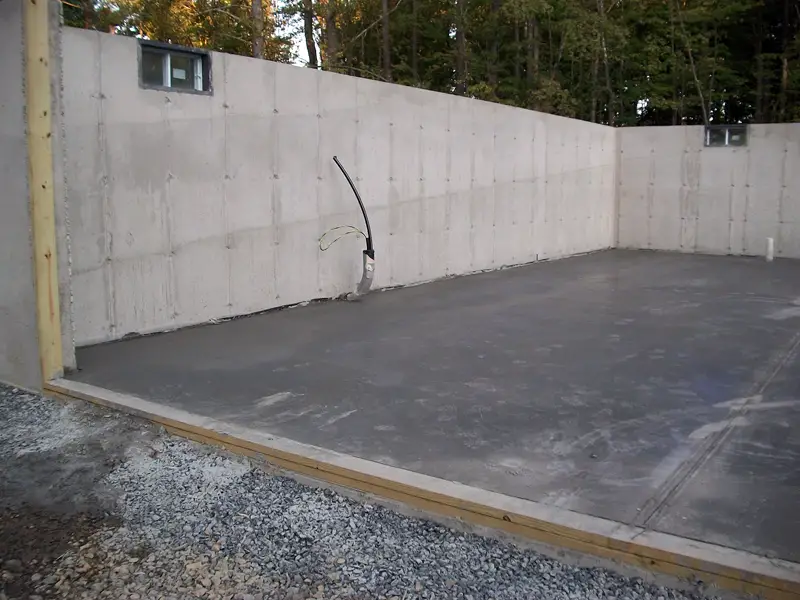 How to choose the right foundation for your building or structure.
When it comes time to construct a shed, guest house, or cabin it is vital to have a solid foundation.  Although some structures can sit atop the ground and their weight will hold them in place, it is a concrete foundation that will ensure the building won't shift, move, sink or get blow away.  It is also a great place to start assembling a solid floor, including, tile, stained concrete or wood.
Here are some typical foundations:
Monolithic Slab with Footings:
This type of foundation has footings along the outside perimeter and then a slab poured over top. Often times for larger buildings extra footings or "beams" are installed through the middle of the foundation.
T Foundation with forms: A footing is poured attached with a concrete wall all in one.

Masonry Cinder Block Foundation: A Footing is poured then a concrete cinder block wall is set onto the footing using mortar and rebar reinforcement.  The cinder blocks are then filled with concrete to stabilize and reinforce them.
Crawl Space Foundation: A crawl space foundation is done with either a T foundation or cinder block foundation the difference is that the floor is a suspended wood deck and will allow for easy access under the structure.
Basement Foundation: A basement foundation has the footing deep in the ground with a concrete wall reaching to the surface, the concrete wall will require waterproofing to ensure no water migration into the wall and basement.