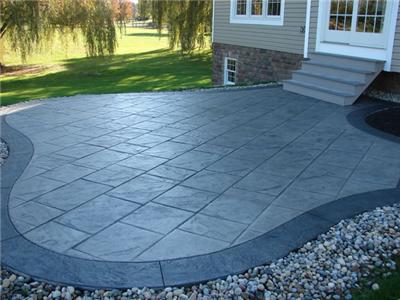 Great Patio Ideas
You know you want a new patio that will extend the living space of your home and provide more room for entertaining. However, determining the size, layout and style of your concrete patio becomes infinitely more complex. While a concrete contractor can help you with the basic design for your outdoor space, it helps if you go into the project with a rough idea of where you want the patio to go and how big you want it to be. There are some basic design factors to keep in mind while you are in the planning stages of your new concrete patio.
Consider Size
The first step in planning your concrete patio is to determine the size you want it to be. Keep in mind that a vast expanse of concrete will become considerably smaller when a few well-placed pieces of furniture are added. Make sure you have plenty of room for the outdoor furniture you will be using. For example, a typical round table that seats four will require a space of at least 12 x 12 feet. If you want to add room for a barbecue, outdoor bar area or loungers, you will want to add sufficient space to accommodate those pieces as well.
Consider Shape
Many builders and homeowners make the mistake of thinking a basic rectangle of concrete outside the back door will be the right shape for their outdoor needs. Think again! Patios will blend into the rest of the landscape much more effectively when the edges are gently curved into the plants and lawn beyond. Your shape may also be determined in part by the material you are using to build your patio. Poured concrete has significantly more options than paving stones or other types of materials. A poured patio can be created in nearly any shape you can imagine. If you need help with the basic shape of your patio, contact your concrete contractor for help.
Consider Use
If you do a lot of entertaining, you might want to consider more than one small patio area rather than a single, large surface. This allows your guests to mingle in smaller groups and creates a more aesthetically pleasing outdoor space as well. You can bring the entire look together by connection the various hardscape features with walkways. If you will be entertaining at night frequently, light the way with solar lights lined along your walkways. If your primary need for a concrete patio is to provide a place for your family to eat dinner al fresco, you might want to go with a large, rambling hardscape right out your backdoor. This setup tends to keep the entire family together for nights in the great outdoors.
The final factor to consider when designing a concrete patio is whether you will need any special permits or permission from your homeowner's association to complete the project. Once you have the basics ready to go, your concrete contractor will be able to build you the patio of your dreams.