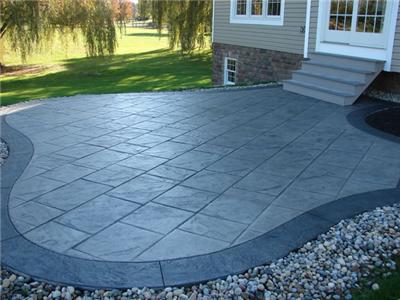 If you have ever considered rejuvenating or updating an old concrete slab, this article just may help.
Here are some ways to fix and make your concrete slab look new again.
A- Concrete Stain. If your concrete's patio slab is simply gray and boring you can always add a concrete stain or dye to its surface and add a beautiful decorative finish. You may consider using either a Reactive Acid Stain or Penetrating Concrete Stain .
B- Resurfacing systems. If your concrete slabs' surface cannot simply have color added to it to make it look better, you want to rejuvenate it with a cement overlay system. Cement overlay resurfacing systems will cover old concrete and add a new fresh surface that can have color in it or can be surface stained. These systems are ideal for structurally sound substrates with poor finishes.
C. Stamped Concrete. When concrete is past the point of repair it may need to be removed and re-poured. On the bright side though this will enable you to use a Stamped Concrete finish. Stamped Concrete can be made to look like Brick, Stone, Rock or a number of other patterns that are imprinted into the surface of the freshly poured concrete.