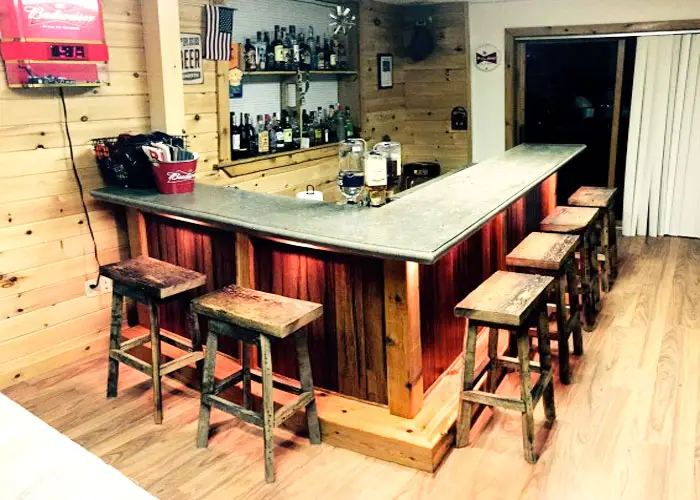 Customized Options and Countertop Design Choices
The rise in popularity of concrete countertops has been significant in the last decade. Concrete artisans offer amazing countertop design choices that last for years. This trendy solution can enhance the aesthetic qualities of a kitchen, bathroom, indoor bar, or outdoor cooking area.
The Beauty of Concrete
It has only been in the last decade or so that concrete has become the choice of materials for countertops. It offers a warm surface that can be created to mimic a variety of natural stones. It can create a rustic natural appearance with a high quality finish that blends in well with nearly any design choice. With the seemingly endless color combinations and design options, the countertop design choices can be an ideal fit for a modern or traditional setting.
There are significant advantages to creating a concrete countertop over other materials including granite and marble. It can be shaped into nearly any design and be permanently sealed to guard against staining or etching. The concrete can be poured at varying depths.
Durability and Versatility
Concrete countertop design choices are becoming even more popular because of their durability and versatility. They can be designed to complement any decor and built to any style. They can even have a sink designed into the countertop as one solid unit.
Customized Designs
Out of all the unique countertop design choices available, some of the options are highly attractive. This includes customizing the countertop with its own built-in drain board, cutting boards, trivet, storage areas, or displays. This adds a significant amount of functionality and overall aesthetic character to the piece. The drain boards can be pre-cast slats on the countertop, or made specifically to hold the cutting board or trivet firmly in place. Even built-in drawers or exposed shelving can be crafted into the customized design to hold grooming products or storage for kitchen or bathroom accessories.
Fiber Optic Lighting
One of the more unique countertop design choices available is to install fiber optic lighting into the surface of the countertop. By casting pure glass or decorative plastic directly into the poured concrete, this unique visual effect can create a fascinating solution for lighting up any area, whether it is an outdoor kitchen, indoor bar, or even a bathroom.
Personalizing an Area
The decorative features of a customized look can create a personalized area that is visually appealing and functional as well. Decorative countertop design choices offer anything but a standard cookie-cutter solution. It is the ideal material that can be used to express an individual's tastes. This includes using a variety of shapes, patterns, colors, or special inlays. The concrete material offers a variety of endless possibilities to create a stylish creative expression.
Whether embedding materials into the surface of the concrete countertop, or adding inlays to built-in trivets or drain boards, there are numerous countertop design choices that can make every piece in the home or office unique.
Decorative concrete countertops are an ideal solution for making an emboldened statement in a decorative piece that can last for generations.