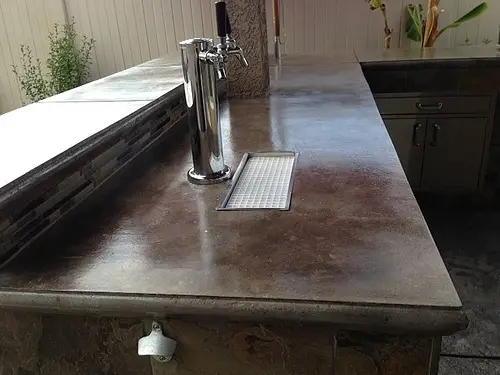 Concrete Countertop Solutions stocks all of the products, tools and training you'll need to create your own diy concrete countertops. Their top of the line products, including the Z Counterform custom edge forms, also make it easy to customize your countertops.
The first step in making your own concrete countertops with the Z Counterform system is to cover the cabinets with cement board. Then measure, cut and attach the Z Counterform edge forms securely to the cement board substrate.
Next, fill in the entire countertop surface form with your concrete mix, ensuring the front edge of the Z Counterforms are completely filled. As the concrete sets, you can use a steel trowel to finish the countertops and create a smooth finish surface. When the concrete is fully cured, remove excess concrete from the top of the form with the Z Gem Pad, creating a smooth, even surface.
Last, simply snap off the Z Counterforms edge forms to reveal your beautiful diy concrete countertop with custom edges.