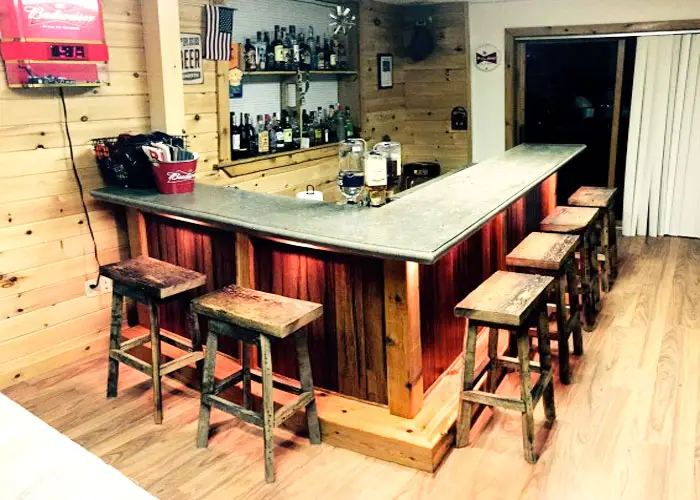 Artistic Commercial Countertops Fabricated Out Of Concrete
Businesses can avoid cookie-cutter commercial countertop solutions, and can instead choose creative customized designs that use concrete. At the commercial level, concrete offers a variety of solutions including the embedment of fossils, gems and stones to enhance the aesthetic qualities of the countertop. In addition, metal inlays and personal objects can be incorporated into the overall design.
The Beauty of Concrete
When the concrete surface of the commercial countertop is properly cared for, it can age beautifully. It offers a high level of strength and durability, at approximately the same weight as compared to a variety of available natural stone products. While traditional products used for countertops are typically 1 ½ inches, a standard concrete commercial countertop is usually 2 inches thick. This makes a bold statement while providing a real sense of presence and mass. Additionally, the product can be poured in thicker or thinner heights as required.
Another beautiful property of using concrete for commercial countertops is the ability to have hot items placed directly on the surface. In addition, pre-casted trivets, drain boards and other components can become an integral part of the surface of the countertop. When the surface is properly sealed, commercial countertops are both stain resistant and food safe.
Maintenance
Maintaining and cleaning the commercial countertops are easy. They require nothing more than water, and a non-abrasive soap. In addition, light polishes and sprays along with an annual waxing can maintain the concrete countertop for decades.
Creative Design
In a commercial setting, concrete countertops offer an aesthetically pleasing impact unlike any other available product. It is not limited by any traditional colors, shapes, or designs. It offers a durable surface that is easily textured, stained or polished. It can immediately add an elegant classy feel to the commercial business. It works as the ideal solution for low maintenance and high durability. It is used in a variety of commercial applications in numerous industries including retail, wholesale, restaurants, hotels, stores, shops and others.
Commercial countertops can be fabricated to accentuate the existing components and decor in a room. The countertop can accentuate existing fireplace surrounds, artwork, concrete floors, water features, and other amenities.
Available Colors
The color possibilities of installed commercial countertops are nearly endless. They can be blended in a variety of colors all across the spectrum. Some creative countertop fabricators can offer design elements that mimic paint and tile. In addition, variegated, speckled or solid patterns can be blended into the surface material along with embedded glass, stone and other objects.
The Fabrication Process
The fabrication process of creating commercial countertops is typically three weeks to four weeks long from the signing of the contract to its installation. Typically, all castings are performed in a controlled environment. However, some fabricators will pour the concrete countertop in place. Both methods require approximately 6 hours to fully complete.
Commercial countertops fabricated out of concrete allow for complete customization. It is easy to highly customize the design to meet all of the practical and functional needs of the countertop in a commercial setting.