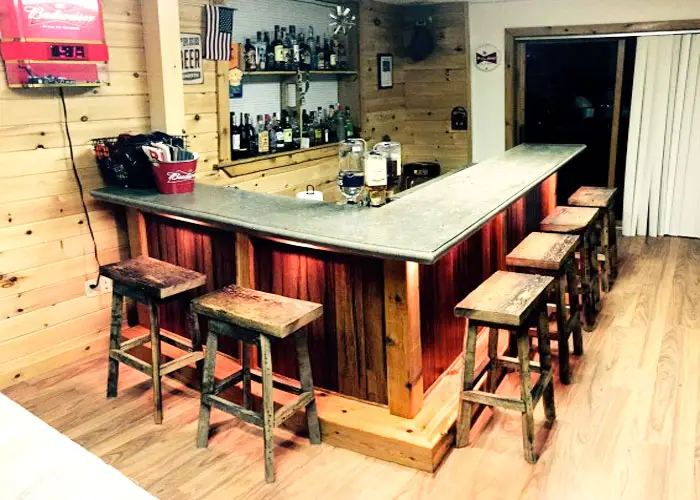 A highly polished concrete countertop or floor is a thing of beauty.  It will lend an air of sophistication to any room regardless of whether you choose a matte, satin, semi-gloss or high gloss finish.
To properly finish a concrete surface there are several things to keep in mind.
Tools & Equipment:
Being prepared with these basic tools and supplies will insure that your job goes as smoothly as possible.
A floor polisher is the workhorse of any polishing job.
A grinder will remove dirt and grit and prepare the floor for polishing
Diamond pads in various grits will allow you to create different levels of shine.
An edging tool makes it possible to get up against the wall or into corners for a uniform polished look
Hand tools such as a trowel and squeegee to create a smooth and even surface.
Miscellaneous products such as stains, dyes, colored aggregates, sealants and fillers, molds and stencils will allow you to create a custom floor or countertop.
Methods:
There are several methods used when polishing concrete depending on the look that is desired.
Troweling is used to achieve a uniform surface and even depth of the concrete.  Most commonly done if an overlay is to be used. This can be done with a hand trowel for smaller jobs or a machine trowel for large areas.  The use of a walk behind trowel will help avoid trowel marks left in the concrete.
Burnishing provides a very durable finish and is most commonly used in industrial or public spaces.
Honing is a finishing process that will result in a matte finish with a very slight sheen.
High polishing is achieved by grinding the concrete with diamond grit pads, then polishing the area until the desired sheen is achieved.
It is possible today to polish concrete floors or countertops and achieve any desired level or durability and appearance.  Once completed you will have a surface that requires little maintenance and upkeep and offers a sophisticated look to your home or business.