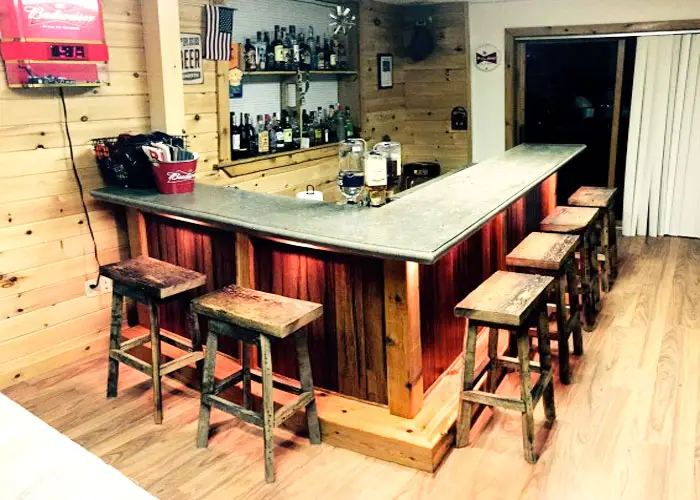 Glass Fiber Reinforced Concrete Countertops
Glass fiber reinforced concrete (GFRC) is a cement composite that has been embedded with glass fibers resulting in a stronger and lighter weight concrete.  It is a very durable and versatile product that offers many advantages over standard wet cast cement.
GFRC uses less material-the glass fibers provide the strength in the concrete which means no steel rebar and less cement mixture is needed for large projects.
Weight-countertops made of GFRC can weigh as little as half as much as a traditionally cast countertop.  This makes it easier to move, easier to install and may eliminate the need for a substructure.
Production time-a GFRC project offers a quicker turn around time than a normal wet cast project.  It can actually be templated, cast and installed within 72 hours if necessary.  Precast GFRC is also available making the production time even less.
Finishes-many finishes can be applied to a countertop constructed of glass fiber reinforced concrete.  This includes polishing, staining, sand blasting, special coloring and marbling.
Eco-friendly-up to 1/3 less cement material is used in the making of GFRC and the glass fibers are often made of recycled glass products. The added strength provided by the glass fibers requires less concrete be poured thereby using less material.  This will surely satisfy those interested in using "green" materials in construction.
Versatility-GFRC can be cast and molded into any shape or design that includes moldings, fireplace surrounds, stairways and custom edges on countertops.
When working with glass fiber reinforced concrete standard cement tools will be necessary.  In addition to these tools you will need a stand mixer, hopper gun and air compressor.
GFRC is a very durable and versatile product that will produce beautifully constructed concrete pieces for a home, business or public area.